Social Work Research Fellow is joint winner of the Campbell Collaboration Farah Jamal Award
By: Heather Stanley
Last updated: Tuesday, 7 December 2021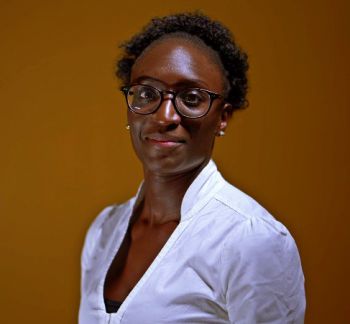 ESW Research Fellow, Dr Brenda Hayanga, has been named joint winner of the Campbell Collaboration Farah Jamal Award (with Promise Nguku) 2021. The award - for early career researchers - aims to recognise scholarly research that ensures historically marginalised and under-represented voices are heard.
The award ceremony was held remotely via Zoom on 7 December.
Brenda said:
"I am deeply honoured to be a joint winner of the Farah Jamal Award. I do not have the appropriate words to express my appreciation for the Campbell Collaboration for recognising my research on how social isolation and loneliness interventions can meet the needs of older people from minoritised ethnic groups living in the UK.
Farah Jamal was passionate about challenging social inequalities using innovative approaches, and her body of work is invaluable for those in this field. Winning this award has inspired me to continue in her efforts to challenge social inequalities. I hope that I can inspire others to do the same."
Brenda joined the School of Education and Social Work at the University of Sussex as a Research Fellow in October 2020. She is currently working with Dr Laia Becares (Senior Lecturer in Applied Social Science) on a project investigating ethnic inequalities in healthcare utilisation and care quality among people with multiple conditions. Her research interests include understanding the impact of health and socio-economic inequalities on people from minoritised ethnic groups.
Laia said:
"Brenda's PhD used a mixed methods approach to examine experiences of social isolation and loneliness among older people from minoritised ethnic groups in the UK. She challenged conventional approaches within the social gerontology literature that are based on predominantly white and middle-class understandings of ageing, through introducing an intersectional lens on social relationships later in life.
She is maximising the potential impact of her work by disseminating findings to a wide range of stakeholders. We are fortunate that she is now working with us at Sussex, and we will support her to continue making outstanding contributions to her field."
Directors of Research & Knowledge Exchange in the School of Education and Social Work, Professors Rachel Thomson and Janet Boddy, said:
"In ESW we are committed to attracting, nurturing, and sustaining research talent at all career stages. We are delighted that Brenda is flourishing within this environment and are proud to be associated with research that makes a difference to policy, practice and lived experience."
According to the Campbell Collaboration, the shared award reflects "the breadth of the intent of this award to focus on both within-country and between-country inequities." The Campbell Collaboration is committed to diversity, equity, and inclusion and welcome nominations of people who have been under-represented in past Campbell awards, for example, women and people from low- and middle-income countries. Nominees for the award must be within seven years of achieving their PhD and have made an important contribution to ensuring under-represented or marginalised voices are heard in any area within the ambit of the Campbell Collaboration.
The Farah Jamal Award award is named in honour and memory of Farah Jamal, an exceptional early career researcher who conducted innovative work on health inequalities.