ESW Appoints Dr Lisa Holmes as new Professor of Applied Social Science
By: Heather Stanley
Last updated: Monday, 4 October 2021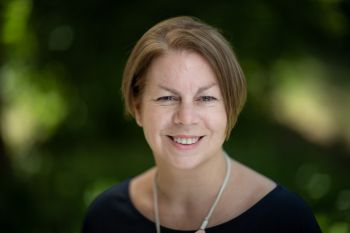 The School of Education and Social Work is pleased to announce the appointment of Dr Lisa Holmes as its new Professor of Applied Social Science. Lisa will take up her role January 2022 when she will lead development of evaluation research across the School.
Professor Gillian Hampden-Thompson, the Head of the School of Education and Social Work, said:
"I am absolutely delighted that Lisa is joining us at Sussex. Lisa is an extremely talented and experienced researcher who will help us realise our ambitions to develop further our programme of evaluation research in the school. There is little doubt that Lisa shares our commitment to improve the outcomes of children and families and particularly the most vulnerable in our society.
Lisa Holmes said:
"This is an exciting opportunity for me. I am thrilled to be joining ESW and look forward to contributing to the programme of evaluation research, and to working with colleagues to develop robust evidence to inform the development and implementation of services and support for children and families."
Lisa joins Sussex from the Rees Centre at the University of Oxford where she has served as both the Deputy Director and Director of the Rees Centre and more recently the Deputy Director of Research for the Department of Education at Oxford.
Lisa gained a First-Class Joint Honours degree in Psychology and Criminology at the University of Lincoln and went on to complete a PhD within the Department of Social Science at Loughborough University. Prior to joining the Rees Centre, Lisa was the Director of the Centre for Child and Family Research at Loughborough University where she was involved in the research centre's formation in 2001. Over the past twenty years Lisa has undertaken a range of research projects and evaluations to inform child welfare policy and practice. Her most significant new research programme will investigate factors linked to the mental health and wellbeing of care-experienced young people during two transition periods: moving from primary to secondary school and moving from adolescence into adulthood. This four-year £2.2 million UKRI funded programme is co-led by Dr Rachel Hiller (University of Bath).
Professors Janet Boddy and Rachel Thomson, Directors of Research and Knowledge Exchange in the School of Education and Social Work, said:
"It is very exciting that Lisa Holmes is joining the School as a Professor of Applied Social Science. Internationally recognised as a leader in her field, Lisa brings a creative interdisciplinary perspective and strong synergies with existing strands of work within Education and Social Work and the University. Her research over the years has made significant difference to policy and practice for children and families, and we look forward to that continuing as we build our programme of evaluation research."