BAME Scholarship Student to start Education PhD in September 2021
By: Heather Stanley
Last updated: Tuesday, 21 September 2021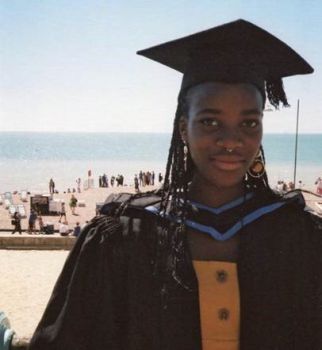 Following the offer of a doctoral scholarship in support of its commitment to widening participation in higher education at all levels - and specifically to address the under-representation at the University of Sussex of researchers from Black, Asian and Minority Ethnic (BAME) backgrounds - Fezile Sibanda will commence studies on the full-time Education PhD on 20 September 2021. Fezile's winning research proposal is 'Raceification in Academia: The experiences of academics of colour in British Higher Education Institutions'.
Dr Barbara Crossouard, who was involved in developing the case for the studentship, commented:
"Given the under-representation of BAME groups at doctoral level, both in the UK and at Sussex, I am delighted that the School of Education and Social Work has given its wholehearted backing to this initiative. I look forward to welcoming Fezile to our doctoral community."
Referring to her winning of the scholarship, Fezile said:
"I am extremely excited to be starting my PhD at the University of Sussex this September, and feel my research is well placed within this exceptional institution. The University of Sussex has outstanding research centres and academics, and my research will add a valuable - and often - marginalised voice.
"My research will focus on the notion of coloniality within British higher education institutions, and in turn its impact on the experiences of Black academics within these institutions. As Black academics are one of the most under-represented and marginalised groups in academia, my focus is to share the narratives of this group to expose some of the issues faced by Black and racialised folk within the academy.
"As I have been awarded the first-ever BAME studentship at the University of Sussex, I feel my research aims to unpack the very thing I am receiving funding for, which is essential. While I am honoured to receive such funding, I feel that this is also a perfect opportunity for institutions much like Sussex to start to actively work towards anti-racism and decoloniality within the academy as this underrepresentation and persisting inequality is not new, but has been bought to the forefront within recent years. This can start by creating more opportunities and providing resources specifically for marginalised and 'non- traditional' students. A seat at the table is only the beginning. We also need to be heard, valued, and championed. Thank you for the fantastic opportunity."
Fezile will be supervised by Senior Lecturer in Higher Education, Dr Tamsin Hinton-Smith, with Professor Máiréad Dunne and Dr Tam Cane as second and third supervisors.
Tamsin said:
"The new ESW BAME Doctoral Studentship is an important initiative for the School as part of its wider commitment to tackling persistent inequalities in representation and progression across higher education.
"Fezile's doctoral work promises to make an important contribution to furthering this agenda through her focus on listening to and learning from lived experiences of these inequalities from Black academics. We are excited to welcome Fezile to the academic community of ESW and to supervise this important research."
The scholarship covers the course fees for the duration of study (four years full-time) plus a tax-free stipend for living expenses.
A contingent of the award was that the proposed research study demonstrates a commitment to social justice issues related to education and/or social work and makes a clear contribution to addressing the barriers and discrimination facing marginalised groups.