Major funding for new project supporting better education provision in conflict affected countries
By: Neil Vowles
Last updated: Friday, 26 March 2021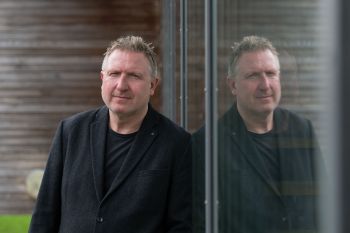 A Sussex professor is leading a new £2 million research project designed to help find better solutions to supporting the provision of quality education for children that supports sustainable peace and development in countries affected by conflict and crisis.

Professor Mario Novelli is the co-Principal Investigator of a new Global Challenge Research Fund (GCRF) awarded by UK Research and Innovation (UKRI) to a consortium of four universities that will support the promotion of critical political economy research on education systems in contexts affected by conflict and crisis.

Prof Novelli and his team at Sussex will be responsible for developing training and knowledge-exchange opportunities, supporting the mentoring of young researchers and developing online open-access materials to support critical political economy research of education systems in contexts affected by conflict and crisis.
The three-year project is a partnership between the University of Sussex, the University of Ulster, Nazarbayev University in Kazakhstan and the University of Cape Town, it aims to work with young researchers in Central Asia and Africa, to commission and co-produce political economy research on education systems and redress North-South research inequalities in this field.

The project builds on work carried out by Prof Novelli and colleagues over the last decade on the relationship between education, conflict and peacebuilding which has helped reshape UN policy.
The PEER Network will work to develop a critical and locally grounded approach to Political Economy Analysis (PEA) of Education that will help national, regional and global level policymakers and practitioners make socially just decisions about investments in education that benefit children in contexts of conflict and crisis.

There are currently at least 27 million children out of school in 24 conflict-affected countries around the world – accounting for almost half of all the children globally now living without education provision.

The project will aim to develop better ways to understand the underlying political, economic and social tensions within a specific country which could be exacerbated by education provision.
The research will aim to overcome a current overreliance on international consultants within research on education systems in conflict-affected contexts, who often undertake 'one-off' assessments that lack sensitivity to local history, politics and culture, and lack knowledge of power relations.

The project seeks to vindicate and enhance the recognition of local knowledge and wisdom and support the development of new thinking in this important field.
Prof Novelli, Director of the Centre for International Education at the University of Sussex, said: "This project will be a great opportunity to support a new generation of researchers based in Africa and Central Asia in a field of research that is often dominated by Western academics and consultants.

"We seek to share and build new ideas that respect the rich knowledge production and expertise present in Africa and Central Asia, and develop innovative ways to ensure education systems contribute to sustainable peace and social justice."