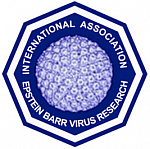 The EBV Association promotes and stimulates the exchange of ideas, knowledge and research materials among research workers throughout the world who study the Epstein-Barr virus (EBV) and related diseases.
We achieve our aim primarily through the organization of an International Symposium on EBV research every two years. This encourages cooperative activities between institutions, organizations and societies which have interests in common relating to basic and applied research on EBV and associated diseases
Upcoming Meeting
The 20th International Symposium on Epstein-Barr virus (EBV) and Associated Diseases will be held in Siena, Italy, on July 3rd-6th, 2022.