Welcome
Discover the Meeting House and the University Chaplaincy at Sussex.
About the Meeting House and Chaplaincy
The Meeting House is right in the middle of campus by Library Square. It's not only an excellent place for chilling out, quiet study, chatting with friends or eating your lunch, but also the base for chaplains working on campus.
Chaplains are here for the whole campus and to offer welcoming informal support to those both with and without faith. We also aim to be welcoming to members of the LGBTQ+ community. If you want to talk to one of the Chaplains, then pop in and say hi during the day, or if you would rather make an appointment, drop us an email.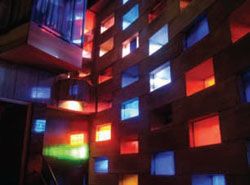 We are to help and would value talking about some of the "big questions" about life, direction, and the stuff that makes us tick.
Or you may just want to sit in the beautiful chapel on the first floor, whatever your religious peruasion – or lack of one – and be quiet for a time.
We also provide regular opprtunities through the week for staff and students to de-stress and relax through mindfulness and meditation sessions.
The First Floor is an amazing kaleidoscopic round building on the upper floor of the Meeting House – a kind of Christian Stonehenge – where the light is different every week and the atmosphere charged with a sense of the sacred.
There is a small kitchen where you can get a tea/coffee or use the micowave with space by the kitchen for you to relax and meet friends.
The Meeting House is open Monday to Thursday 8-7.30pm and Friday 8-7pm during term time. During vacation Monday to Thursday 8-5pm and Friday 8-4pm.
Come and find friends, support and a big welcome for everyone.