Anticolonial, Postcolonial, Decolonial - Contesting Political Terms
Thursday 30 January 16:00 until 18:00
Jubilee G22
Speaker: Zeina Maasri (Brighton) Ali Meghji (Cambridge) and Olivia Umurerwa Rutazibwa (Portsmouth)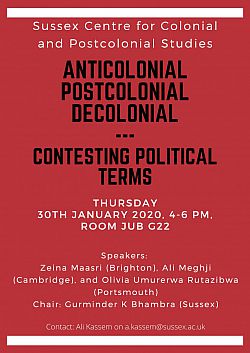 Chair: Gurminder K Bhambra (Sussex)
As the effort to subvert the colonial condition continues, anticolonial, postcolonial and decolonial approaches have been mobilised to contest, make claims, and seek alternatives. Overlapping in many ways, these terms also significantly diverge: from their underlying commitments to their proposed alternatives. Indeed, varied across geographies and fields, with different meanings and applications, they have variously occupied a central position in the unfolding debate and effort against Imperial negation and control. Accordingly, this panel will discuss and question these terms, their connotations and their implications as political approaches for both theory and praxis to reflect on their current and future circulation within and beyond academic scholarship.
Note on presenters:
Zeina Maasri is Senior Lecturer in the School of Humanities at the University of Brighton. Her research is concerned with the intersections of visual culture and politics in global and postcolonial historical contexts, with a focus on the 'Middle East'.
Ali Meghji is a Lecturer in Social Inequalities in the Department of Sociology, University of Cambridge. Ali's predominant research interests lie in critical race theory and decolonial thought.
Olivia U. Rutazibwa is a Senior Lecturer in European and International Development Studies at the University of Portsmouth. Her research centres on ways to decolonise thinking and practices of international solidarity.
Gurminder K Bhambra is Professor of Postcolonial and Decolonial Studies and the Director of the Centre for Colonial and Postcolonial Studies at the University of Sussex.

Download the poster: Anticolonial, Postcolonial, Decolonial - poster [PDF 42.12KB]
---
By: Martin Wingfield
Last updated: Monday, 13 January 2020