Wish you were here! Conference celebrates the postcard
By: Alison Field
Last updated: Wednesday, 23 March 2011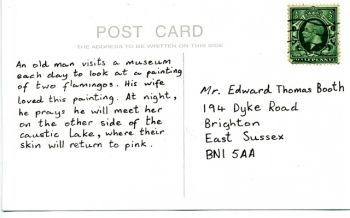 A lament for a long-dead hamster, a tale of gondola-travelling geese and a humorous SOS from a plane-crash survivor at sea are among the weird and wonderful entries to a unique postcard competition at Sussex.
More than 100 writers, artists, publishers and academics will be attending 'Picture This: Postcards and letters beyond text' to consider letters and postcards as literature, art and cultural phenomena.
The two-day conference, organised by Sussex students Katie Reid and Bethan Stevens, will see leading researchers share their knowledge with research students in talks, seminars and workshops on archive collections, fiction and literary criticism and art.
The postcard competition, run in collaboration with publishers Myriad Editions, aimed to find the best pieces of creative writing produced on the back of a postcard.
The varied entries feature poems, short stories, original artwork and photos and humorous collages.
The best of them will be displayed at an exhibition in the Creativity Zone, which will be open to students, staff and the public from 11am to 5pm on Friday 25 March.
The entries were judged, by correspondence, by the novelist Nicola Barker, whose latest novel Burley Cross Postbox Theft is a comic tale told in letter form. The winners will be announced on the day of the exhibition.
Conference participants will be able to join a research-skills seminar at Brighton Museum, creative-practice workshops for writers, talks and seminars.
Speakers include Ann Dumas (Curator of 'The Real Van Gogh' for the Royal Academy), Professor of English and author Nicholas Royle and Professor of English and artist Marcus Wood.
Katie Reid and Bethan Stevens organised the event through correspondence, as Katie is researching at Sussex and Bethan is lecturing at Nottingham Trent.
They say: "The art of letter-writing seems to be in danger of changing to the point of dying out - even sending a postcard is less popular than it used to be.
"We hope that this conference will celebrate the true art of letters and postcards as repositories of wit and reflection, revelation and original thought and that, alongside the competition, we can re-make and talk about them in new and contemporary ways.
"Judging by the enthusiasm of our competition entrants, the postcards competition and exhibition might become a regular event."
The conference was organised with help from the School of English, the Doctoral School and the 'Beyond Text programme' of the Arts and Humanities Research Council (AHRC).
For further details, see www.postcards-letters.org.uk