Sustainability: Welcome Week 2023
Posted on behalf of: The Sustainability Team
Last updated: Tuesday, 19 September 2023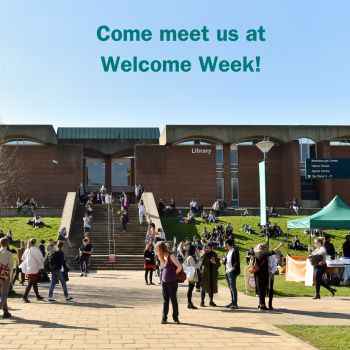 Counting down the days to Welcome Week 2023 at the University of Sussex?
We can't wait to meet you at our programme of Sustainability events! This year, we're excited to show you the biodiverse surroundings of our campus, from our student and staff led biodiversity projects on campus, to the Boundary Woodland, and beautiful Brighton Beach.
Alongside our own events you can come and find us at Freshers Fair (Wed 27 September) and the Students Centre Atrium (Tuesday 26 and Thursday 28 September) to find out more about living sustainably, ask us your questions, and get involved in sustainability from your very first week at Sussex.
You'll also have the chance to win an electric, folding bike with EcoGo, our sustainable and active travel rewards scheme!
You just need to know where to find us. So, here we go!
We're lucky to be surrounded by a range of natural areas to wander into between lectures and during lunch breaks.
Come along to explore some of these areas - from the Boundary Woodland to Falmer Pond - and to meet other new Sussex students on Arrivals Weekend.
Do you feel concerned about the climate? Join us, voice your concerns and let's talk about sustainability and climate change.
We will be there to listen to you, share resources and information on what we as a university and the wider community are doing to tackle climate change and hold a space for you to make connections, talk and act on climate change.
Biodiversity Walk – Tuesday 26 September, 12.00-1.30pm
Do you want to discover your new campus' nature and meet like-minded students?
From woodland, to ponds, to scrub - join biodiversity academics, the Sustainability Team and fellow new students, to explore the habitats you can find across our beautiful campus.
Come along to enjoy a disco and explore the beach, while helping to protect Brighton's marine wildlife this Welcome Week!
We will have three channels of music and litter-picking equipment, just bring your dancing shoes! You'll be doing your part to keep plastic out of the ocean ecosystem, where it poses a major threat to marine life.
The Students' Union are also running several sustainability events, from the Free Shop and group Cycle Rides to Campus, to a Charity Shop Tour and Green Garden Get Together.
Keep an eye on our Instagram @sustainablesussexuni for updates across the year!