Sussex signs up to the Gypsy, Traveller, Roma, Showman and Boater Pledge
Posted on behalf of: Internal Communications
Last updated: Wednesday, 7 June 2023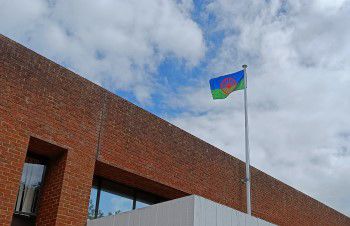 At the start of Gypsy, Roma and Traveller (GRT) History Month we can share the great news that Sussex has signed up to the Gypsy, Traveller, Roma, Showman and Boater (GTRSB) Pledge.
Acquiring this important equality charter mark demonstrates our further commitment to support GTRSB students into and within higher education in support of our widening participation aims, and is part of our commitment to race equality.
The pledge, developed after consultation with GTRSB community members, civil society organisations and educators, is underpinned by robust research. It sets out to create an open and welcoming environment where members of GTRSB communities can be confident that their culture and learning needs are understood.
View a video statement from Vice-Chancellor Sasha Roseneil on Sussex signing the pledge, where Sasha describes the work that we do in this area and what we strive to do in future. Sasha describes how signing the pledge means we'll do our utmost to celebrate the GTRSB community and support their educational progress and ambitions.
GRT History Month aims to tackle prejudice, challenge misconceptions and amplify the voices of GRT people in wider society. As well as flying the GRT flag at Sussex House, we will be hosting and supporting a number of traveller events and activities:
Creating Voice: Exploring the Student Journey at the University of Sussex
The Attenborough Centre | Friday 2 June | 12 noon until 4pm
Exploring the student journey through art, photography, music and creative writing, this event celebrates the varied experiences of our diverse community and will include a GTRSB element. Open to all.
Travelling Tales: installation and exhibition
Jubilee Library, Brighton | Monday 5 June - Saturday 10 June | Drop in during library hours
On the ground floor you can view a beautiful Vardo (Gypsy wagon), brimming with traditional artefacts and hand-crafted objects made by the communities. Visit the photographic exhibition in the community space created by young people from the traveller communities in Brighton showcasing their lives, culture and skills.
Engaging Gypsy, Roma and Traveller Students in the Higher Education Curriculum
Online | Wednesday 28 June | 12 noon until 1pm
Hear from colleagues who are researching how best to engage and support Gypsy, Roma and Traveller Students in the curriculum. Speakers will share their knowledge and reflections on inclusive pedagogy and invite you to think about how you might include these communities in your own teaching practice. Open to all staff.
EDI Champion training around GRT awareness
Bramber 235 | Thursday 29 June | 1.30pm - 4pm
This lunch event is open to EDI Champions: please contact Mary Howarth for the details.
More information
Please see our dedicated webpage for further information, resources and guidance about the University's GRT outreach work. If you have any questions, please contact Chris Derbyshire in Widening Participation.