New staff volunteering policy: take time out to support good causes
By: Martha Knott
Last updated: Wednesday, 17 May 2023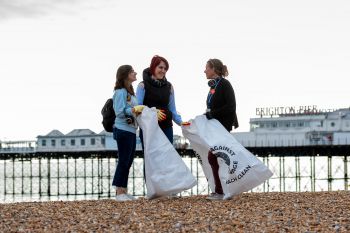 Did you know that you can take time off to volunteer?
We, as an employer, want to support and encourage all of our staff to take time out from their day jobs to support good causes in the community.
Our Volunteering Policy [PDF, 277KB] gives all employees on a contract of 12 months or more an allowance of at least two days per year (pro rata) to volunteer.
Volunteering is a fantastic way to have a positive social, environmental and economic impact in our local communities. In addition, volunteering can:
improve work-life balance
help you form relationships within your local community
improve happiness and confidence
improve mental and physical health for individuals.
help you acquire new skills for your professional and career development
Staff are encouraged to volunteer with one of our 10 charities of choice, which promote social, environmental and economic sustainability in alignment with all 17 United Nations Sustainable Development Goals to ensure a core focus on creating a more sustainable world.
These charities were chosen following a staff consultation in 2021, which received 137 responses.
Find out more about staff volunteering, what you can do, and how to book it on our webpages.
Further information: https://staff.sussex.ac.uk/guides/staff-volunteering