The fifth edition of the Education Awards recognises the outstanding work of Academic and Professional Services
By: Maria Balboa Carbon
Last updated: Thursday, 18 May 2023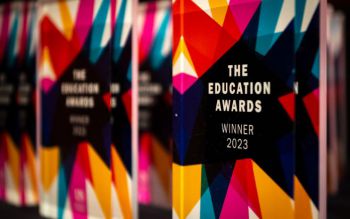 Last Thursday 4 May the sun came out to celebrate the fifth edition of the Sussex Education Awards. The event, co-hosted by Vice-Chancellor, Professor Sasha Roseneil, and the Pro-Vice-Chancellor for Education and Students, Professor Kelly Coate, was held at the Attenborough Centre for the Creative Arts.
This annual celebration recognises members of staff – both academics and those in professional services – who truly embody the spirit and values of the University. After the ceremony, the winners, nominees and attendees moved to the café and outside area to enjoy the sunshine, drinks and canapés.
In what was her last Education Awards ceremony as Pro-Vice-Chancellor, Kelly Coate highlighted the importance of this annual ceremony to celebrate both the innovative pedagogic changes lead by academic staff and the invaluable support of the professional services in ensuring that we offer the best teaching and learning opportunities to our students.
After the nominations closed in March, a judging panel convened by Professor Kelly Coate and made up of academic staff, professional services and Students Reps, reviewed the nearly 300 nominations that students and staff submitted this year and chose the winners in each of the five categories. The winners were announced last Thursday.
Professor Sasha Roseneil said:
It's been the most incredible honour and pleasure to be co-hosting the Sussex Education Awards 2023. It's a wonderful opportunity for students to say thank you to our staff. It's fantastic to see that students do really appreciate the people who teach them and then to hear the speeches of the staff, who all thank their students back. That reciprocity and the recognition that the relationship with students is at the heart of education is what this celebration is all about.
Professor Kelly Coate said:
Every year we ask our students to nominate staff who they think deserve to be recognised and rewarded for the amazing work that they do in supporting the student experience and making our students feel valued and cared for. This year we've given almost 30 awards to people across the University and professional services. And this ceremony is to say well done, we're really proud to be part of this community and proud to be amongst people who are making the real education experience of students so great.
Kelly Coate and Sasha Roseneil presented 29 awards in the categories: Teaching to Disrupt, World Readiness, Better World, Learning Together, and Inclusive Sussex
The Teaching to Disrupt award recognises teaching staff who dare to be different in their approach to teaching. Thewinners are:
Carli Rowell​ (Law, Politics & Sociology)
Xuan Huy Nguyen​ (Business School)
Tom Farsides​ (Psychology)
Danielle Evans and Jennifer Mankin​ (Psychology)
Kingsley Sage​ (Engineering and Informatics)
Louiza Odysseos​ (Global Studies)
Mika Peck and Maria-Clara Castellanos (Life Science)
The World Readiness award is a new category that recognises those who help prepare and empower students for life after graduation. The winners are:
Alexandre Rodrigues (Engineering & Informatics)
Valentina Scarponi​ (Life Sciences)
Paul Eden, Joanna Wilson and Christopher Walter​ (Law, Politics & Sociology)
Jeanette Ashton and​ Kieran Durcan​ (Law, Politics & Sociology)
Claire Tingsager​ (Business School)
The Better World Award is for staff who are actively engaged in efforts to make a positive impact in the local community – and wider world – in creative and entrepreneurial ways. The winners are:
Nicos Georgiou​ (Mathematical & ​Physical Sciences)
Will McCready​ (Law, Politics & Sociology)
Early Years Education Team:​ Jacqueline Young, Fliss Bull​, Deborah Brown and Kathy King (Education & Social Work)
The Learning Together award celebrates collaborations between staff and students working together on a research project or on redesigning the curriculum. The winners are:
Lyndsey McLean, Melissa Gatter​ and the Gender, Violence and Conflict cohort​ (Global Studies)
Street Law Team:​ Jeanette Ashton, Isabel Ng,​ Ruth Nwosu, Kristianna Peel,​ and Tristan Strzelczyk (Law, Politics & Sociology)
The Inclusive Sussex Award, replaces the former Sussex Spirit award, and recognises those members of staff who put into practice at least one of our five core values of kindness, integrity, inclusion, collaboration and courage, within the context of teaching and learning at Sussex. The winners are:
Ian Mackie​ (Engineering & Informatics)
Fiona Clements​ (Law, Politics & Sociology)
Chay Burt​ (BSMS)
Educational Enhancement team
Sarah Inglis​ (Housing)
Terence Cooper​ (Sussex Sport)
James Gordon​ (Student Advice)
Andy Field​ (Psychology)
Jenny Gwynn​ (Media, Arts & Humanities)
David Smalley​ (Psychology)
Tim Cane​ (Global Studies)
Kate Gregory​(Media, Arts & Humanities)
Photo and video gallery
Enjoy this wrap-up video of the event created by our Digital Media Creators Taylor, Accalia and Ping. Underneath, you can watch a series of photos from the ceremony at the Attenborough Centre for the Creative Arts.