A matter of life and death
By: Emma Wigmore
Last updated: Friday, 28 April 2023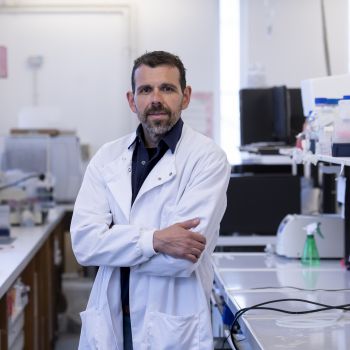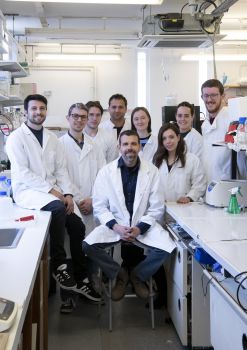 Sussex has a reputation for being a world-leading, research-intensive university. Our research has produced three Nobel Prize winners, developed radical theories and created important innovations. It contributes new knowledge, ideas and solutions, which leads to real change in the world and makes a difference to people's lives.
One particular area of research focus is the study of diseases which become prevalent with ageing. Cancer is one such disease and it's on the rise. According to Cancer Research UK, cancer incidence rates are projected to increase by 55% between 2020-2040, worldwide. What is more, almost half (45.5%) of all cancer cases are diagnosed late, at stage 3 or 4, which is negatively impacting survival rates. Given these statistics, it is all too evident that methods to facilitate early diagnosis as well as the development of more effective treatments are going to be key factors in combatting the disease.
New research by Sussex academic, Georgios Giamas, Professor of Cancer Cell Signalling, and his team could be the first step towards achieving exactly this.
Georgios explains:
"Cancer is not one disease, it's hundreds of them and every case is different – not just depending on the primary organ affected (the place where a cancer starts growing), but depending on the individual patient too. Personalised, or precision medicine represents the future for cancer therapy, but there is a need to further understand the molecular basis of the disease and to develop better diagnostic tools.
"Our current research focuses on breast cancer and brain cancer, especially Glioblastoma, one of the most aggressive types of brain tumour, and one which has very low survival rates. Early diagnosis for any type of cancer is crucial, but it is particularly so for Glioblastoma, which is often diagnosed late.
"What we are working on is a liquid-biopsy to spot deep tissue cancers. What this means is, rather than taking a tissue sample, doctors could take a small blood sample and test for a range of biomarkers that can help identify the presence of cancer. This approach would bring numerous benefits: it is less invasive than a traditional tissue biopsy (which is very difficult to take in the case of brain tumours), it is more cost-effective, it generates results faster and requires less work than traditional diagnostic tests.
"Biomarkers are biological signatures for disease. If we can identify them, we can potentially change the outcome of a disease by giving specific drug treatments. Biomarkers also give us an idea about cancer prognosis; how a patient will live with a particular cancer or how they might respond to a particular therapy."
All research comes at a price, however, and external factors like Brexit and Covid-19 have redirected money away from labs like Georgios', meaning that competition for funding is even more fierce than before. Georgios talks about the implications of this:
"A lab doesn't run itself, and people may not realise that without sufficient funding there may not be a lab anymore. A lab really can shut down overnight. Thankfully, philanthropic support is available and I have been applying for it. In fact, our research is largely funded by philanthropy. I really appreciate the support that I've been given, as does everybody in the lab; it's funding their projects, it funds their salaries, it's their future.
"The generosity of Sussex alumni is also making a significant impact. Dr Stuart Bailey (DPhil 2007), for example, made a donation to help us purchase a specialised instrument for the lab (ExoView R100 platform). Dr Bailey's employer at the time, Biogen, matched his gift for this important purchase. We are hugely grateful for their support."
So, what would be next on Georgios' wish list if he was able to secure extra finances?
"Priorities change, but it could be funding our tissue bank. Our research is highly dependent on access to samples, so in collaboration with the Brighton and Sussex University Hospitals we are establishing a tissue and blood sample bank. Ethical approval from the Health Research Authority has already been granted so we need to raise the money to set the biobank up.
"Or it could be having the resources to hire a PhD student, or a postdoc or two. Then there's the lab running costs or consumables; doing this type of research is costly."
Georgios is abundantly clear about the importance of ongoing investment in his research:
"Philanthropic investment now can speed things up for the future. When it comes to cancer, especially certain types of cancer, we need to improve diagnosis and treatment. It's a matter of life and death – literally."
If you are considering making a gift to support Georgios' research, please contact Barbara Macpherson, Development Manager, at b.macpherson@sussex.ac.uk for an informal chat about where your donation would make the greatest impact.