Sussex Life Sciences students celebrate the successful Roche Mentoring Scheme
By: Carlos Miret Fernandez
Last updated: Monday, 3 April 2023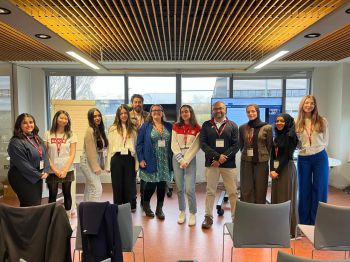 This week, students from the School of Life Sciences attended an event to celebrate the successes of a mentoring scheme coordinated by the UK branch of Roche Diagnostics, a leading medical diagnostics company worldwide. Dr Zahid Pranjol, Director of Student of Experience at the School of Life Sciences and Head of Development at Sussex Robert Yates, also joined the celebration of two years of this programme.
A group of Biomedical Sciences and Neuroscience students met their mentors and organisers of the Roche Diagnostics Mentoring Scheme during the celebration in Burgess Hill, home to Roche Diagnostics UK. The programme is aimed at students from underrepresented backgrounds (i.e. socioeconomically disadvantaged; a minority ethnic group; disabled; female; or a part of the LGBTQ+ community). Students who participate in the mentorship have the opportunity to discuss career options and share their experiences with industry professionals that work on the development of testing and treatment. Mentors support mentees in their transition from university into employment, giving them an insight into a professional corporate environment. Whilst mentees acquire important skills for employability, including preparation for job interviews, mentors place an important focus on delivering a supportive life coaching experience.
Attendees at the event reflected on the personal and professional benefits of such collaboration, both for mentors and mentees. The programme has successfully run for two consecutive years, and will continue to develop in the next year.
Dr Zahid Pranjol, who coordinates the Mentoring Scheme at Sussex, says: "Roche Diagnostics Mentoring scheme has been very fruitful for our Life Sciences students from underrepresented backgrounds, in exploring future career pathways and personal development. This work will continue and we look forward to this fantastic collaboration".