City council candidates to set out their vision for Brighton & Hove at University of Sussex hustings
Posted on behalf of: Internal Communications
Last updated: Wednesday, 22 March 2023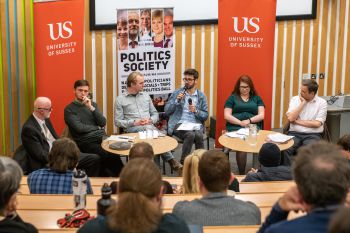 University of Sussex students and staff are being offered the opportunity to quiz local council candidates on the future of Brighton & Hove ahead of elections on 4 May.
The University of Sussex and the Politics Society have announced plans to host a debate involving candidates who are standing for election in Brighton & Hove on Monday 24 April.
Those scheduled to appear on the debate panel are, Hannah Allbrooke standing for the Green Party in Brunswick and Adelaide; Jacob Allen standing for Labour in Woodingdean; Samer Bagaeen standing for the Conservatives in Hove Park and Stewart Stone standing for the Liberal Democrats in the Marina and Whitehawk ward. Further information about the election is available on the Brighton & Hove City Council website where a full list of candidates will be published when nominations close.
The Question Time style panel event will take place on Monday 24 April between 5.30pm and 7pm, in the Meeting House on the University of Sussex campus.
Bradley Stuart-James, President of the Politics Society said: "The Politics Society is happy to be working in partnership with the University to organise the local elections hustings, giving students the chance to pose questions to candidates on local issues."
The event is open to staff and students and will give attendees the opportunity to hear from candidates about their proposed policies for the local area and pose questions to panel members in advance or when prompted by the event chair.
Anyone interested in attending the event can reserve their place and can also submit a question in advance by completing the relevant box on the sign-up form. A selection of these questions will be put to the candidates on the evening.
Attendees are asked to bring their Eventbrite confirmation email with them when they arrive at the venue.