Sussex neuroscientist appointed to the European Brain Council Board of Directors
Posted on behalf of: Life Sciences
Last updated: Monday, 6 March 2023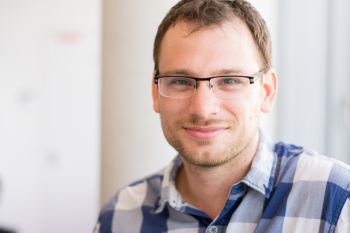 Professor of Neuroscience at the University of Sussex, Tom Baden, has been appointed member of the board of directors for the European Brain Council (EBC). In this new role, Prof Baden will help Europe's neuroscientists navigate diverse policy matters including funding allocation and research legislation, and more generally the positioning of Europe's researchers and institutions on the global stage.
Based in Brussels, the EBC is a non-profit organisation that acts as an umbrella platform for promoting brain research in Europe. This network of organisations working on all brain matters encompasses scientific societies, patient organisations, professional societies and industry partners. Besides fostering collaboration across its members and stakeholders, the EBC interacts with European Institutions to develop health policies, and delivers educational and awareness campaigns on the importance of neurological and mental health.
Prof Baden is a multi-awarded neuroscientist at the School of Life Sciences, seeking to understand the function and evolution of neuronal circuits by focusing on early vertebrate vision. In the Baden lab, a team of Sussex Neuroscience researchers explore how visual information is processed by neurons in the retina and brain of diverse animals including fish, frogs and birds, and they work on understanding how different visual systems have evolved in the natural world. Prof Baden also directs the Sussex Centre for Sensory Neuroscience and Computation, a cross-school collaboration that fosters interdisciplinary research with a focus on the senses and their computational basis. Alongside his research, Prof Baden promotes scientific capacity building in Africa and advocates for the use of open-source hardware in science research.
Prof Tom Baden says:
"I am humbled and delighted to do my bit in helping our discipline navigate a variety of important policy issues to ensure that Europe can continue to be a global hub for innovation and research long into the future for the maximum benefit of all."
Prof Claudio Alonso, Head of Department of Neuroscience at the School of Life Sciences, says:
"We are very pleased and proud to learn of Prof. Baden's election to the EBC board of directors. This most distinguished international recognition shall place Tom – as a Sussex world-class neurobiologist – in a unique position to influence neuroscience research, education, and policy in Europe. Many, many congratulations to Tom and his research team for this extraordinary and impactful achievement."