University of Sussex community raises £64,000 to support staff and students affected by Ukraine War
Posted on behalf of: Lauren Ellis
Last updated: Friday, 24 February 2023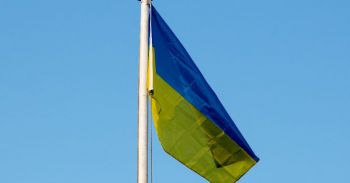 Today, (Friday 24 February) marks one year since Russia invaded Ukraine. Since the conflict began, the University of Sussex has supported staff and students affected.
Members of the University of Sussex community, including students, current and former staff and alumni have contributed to the University's Emergency Ukrainian Students Sussex Fund Appeal. Since April last year, over 300 supporters have collectively given almost £32,000 to this appeal. With match funding from a legacy donation, a total of around £64,000 has been raised. Funds have helped to provide hardship bursaries to Ukrainian students affected by the war.
In August 2022, the University also signed an official agreement to 'twin' with Ukrainian University Oles Honchar Dnipro National to support students and academics impacted by the conflict in Ukraine. This commitment was made to facilitate the sharing of resources and enable Oles Honchar Dnipro National University students and academics to have access to online courses and teaching materials, as well as Sussex's online library.
In a further show of support, the University increased its hardship funding, in March 2022, to support the student community and continues to encourage students impacted by the ongoing crisis to contact the University's support services, via its Student Centre.
Professor Sasha Roseneil, Vice-Chancellor at the University of Sussex, said:
"The University of Sussex is global through and through – and our community has been deeply affected by the war in Ukraine and the suffering and sacrifices of the people of Ukraine. Staff, students and alumni have made generous individual donations, and have come together to raise money and to offer welfare services to those in need. The past year has been deeply challenging for those whose lives have been impacted by the war, and we will continue to offer our support to Ukrainians who are now in the UK and through our partnership work with academics and universities in Ukraine."