West Slope Update
Posted on behalf of: Campus Development
Last updated: Monday, 16 January 2023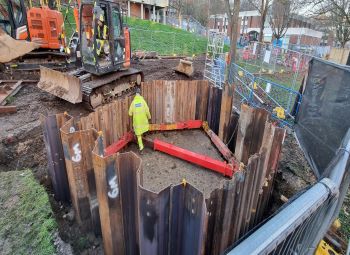 As we reach the end of term, our work to prepare campus for our new West Slope development continues at a pace with lots of work underway to install new gas, electric and water utilities across campus.
Work is continuing along the Arts path as we update sewage pipes to support our new and existing buildings. Over the next few weeks, metal sheets are being installed across a couple of the work areas near to Arts, Jubilee and Essex House – these sheets reinforce the ground around them and create safe work areas. If you're on campus you may notice additional noise and vibrations whilst these works are underway.
On Monday 12 December, work to widen a section of path along Refectory Road next to the Health Centre will begin. Whilst this work is underway, the zebra crossing opposite the new pharmacy will be closed and the cycle lane shortened. The steps between Refectory Road and the Health Centre will be closed, but the Health Centre remains open and is fully accessible via its main entrance. This work will be ongoing until the beginning of February.
Also starting on Monday 12 December, there will be some arboriculture works on campus. There will be work to remove some trees, and to raise the canopies of other trees – you may notice some noise from machinery whilst this work takes place. We are preserving as many trees as possible on the West Slope, but some need to be removed or have their canopies reduced to allow for our main construction works to start next year. For every two trees removed, five will be planted with a range of varieties to encourage biodiversity on campus. All the works taking places were approved during planning permission for the development and have been scheduled to take place at the recommended time of year for tree works and at a time when campus is quieter,which will help us keep disruption to a minimum.
From the 17 December, the works on the top half of Norwich House Road will be continuing further down the road. This means that there will be no longer be vehicle access to York House, but there will still be pedestrian access to both Norwich House and York House.
From the 23 December, our construction work will pause. To make sure everything remains safe and secure over the Christmas period, we will be increasing security patrols across our work sites.  All works will resume again on Tuesday 3 January.