Digital exclusion in Sussex to be tackled at national festival event
By: Vicky Trendall Lane
Last updated: Wednesday, 2 November 2022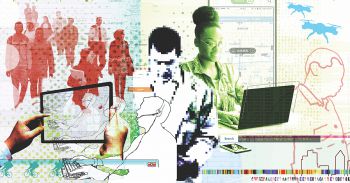 University of Sussex researchers will be sharing insight into tackling digital exclusion in Brighton and Hove as part of a national social sciences festival.
An online panel discussion, Digital levelling-up in Sussex, will run between 1-2pm tomorrow (Wednesday, 2 November), as part of a programme of free events from the University for the annual Economic and Social Research Council (ESRC) Festival of Social Science (ESRC). Tickets to the event can be booked by visiting www.festivalofsocialscience.com/events/digital-levelling-up-in-sussex.
Run in conjunction with the Institute of Development Studies, the event draws on the research of Dr Becky Faith, a Research Fellow at Digit and the Institute of Development Studies (IDS), which explored the effects of digital exclusion in Brighton and Hove during the Covid-19 pandemic, and on the extent of digital poverty in low-income households in the UK.

The event is part of the Digit Debates series from the ESRC-funded Digital Future at Work Research Centre (Digit), a joint venture between the University of Sussex and the University of Leeds.
Findings published by Dr Faith this summer showed that among people living on an annual household income of £25,000 or less, one in five never used the internet; while one in 10 of England's poorest households had to reduce spending on clothes or food to afford phone or home internet. She hopes that by bringing together a panel of local experts, they can highlight these issues and discuss how to implement a more inclusive digital transformation in Sussex.
Dr Becky Faith, Research Fellow at Digit and Leader of the Digital and Technology cluster at IDS said:

"Our research shows clearly that the cost-of-living crisis risks further entrenching the digital divide across the UK, including in Brighton and Hove. In an economy where crucial services like universal credit are now 'digital by default', requiring both internet access and digital skills to apply and claim, a lack of online access increases both societal exclusion and poverty.

"Government action from a national and local level is urgently needed. Policies such as ensuring social tariffs are fit for purpose, and to providing free public access to the internet to those most in need could help low-income households often trapped in vicious cycle of poverty."
The Festival of Social Science is an annual celebration of social sciences and a key element of ESRC's commitment to promoting awareness of UK social science research to new audiences. To help celebrate its 20th anniversary this year, over 400 free events - ranging from talks and performances to exhibitions and panel debates - will be delivered by 34 partner universities, including the University of Sussex, across the UK between 22 October and 13 November.

Professor Alison Park, interim ESRC Executive Chair, said:
"The ESRC Festival of Social Science offers a fascinating insight into some of the country's leading social science research and its relevance to individuals, society and the economy. This year we are celebrating the festival's 20th birthday with over 400 free events across the UK, including at the University of Sussex. We hope the events are enjoyable and inspiring."
Other events organised by social scientists from the University of Sussex during the festival include:

The 4 Day Week: how local Sussex businesses have made it work

This panel event on 26 October, run in collaboration with the Brighton Chamber of Commerce, showcased research being conducted by the Sussex 4 Day Week project about the biological and business benefits of a four day working week. Headed by University of Sussex Psychology lecturer Dr Charlotte Rae, the event further featured insights from employers and employees currently conducting the trial. To find out more about the Sussex 4 Day Week project, visit www.sussex4dayweek.co.uk.

A Social Itch

Social scientists from Brighton and Sussex Medical School will present this double-bill film screening about the social and political experience of scabies locally – particularly in a number of Sussex care homes - and in other parts of the world. The screening will be held at Towner Art Gallery Cinema in Eastbourne, on Tuesday, 8 November 2022 from 19.00. For more details, see: A Social Itch | Events | Festival of Social Science

An Uncertain World / Healing Maasai Lands

This captivating photography exhibition, displaying between 11 November to 2 December at the ONCA in Brighton, draws on the work of two distinct but related research projects, An Uncertain World and Healing Maasai Land: Communal Pastures, Changing Identities and Cooperation. Both photography projects put environmental challenges into the spotlight, while highlighting initiatives being used to overcome these obstacles. For more details, visit: An Uncertain World // Healing Maasai Land – O N C A

All events, as part of the ESRC Festival of Social Science 2022, were made possible thanks to funding from the Economic and Social Research Council (ESRC), which is part of UK Research and Innovation (UKRI).