Exhibition celebrates this year's Junior Research Associates
Posted on behalf of: Student Communications
Last updated: Monday, 31 October 2022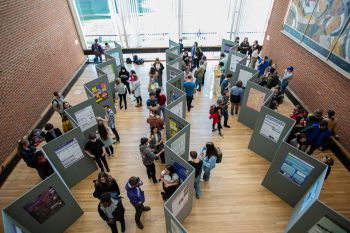 Tuesday 18 October saw the Junior Research Associate (JRA) poster exhibition in Mandela Hall, showcasing the work of this year's JRA students and celebrating the end of their research projects. 
The JRA Scheme offers undergraduates the opportunity to conduct an eight-week research project over the summer months, working with academic supervisors and PhD mentors, and contributing to cutting-edge research across disciplines. 
Ninety-six Sussex students took part this year, and they were joined by 15 International JRAs from partners including the University of Chicago, the Tata Institute of Social Sciences in India, and the National Autonomous University of Mexico.
The scheme culminates in a research poster competition, which this year was judged by Professor Jeremy Niven (Dean of the Doctoral School), Bethany Logan (Library), Chris Brown (JRA trainer) and DrBirgul Kutan (ESW - Education). Professor Niven awarded the prizes at the exhibition, along with certificates for every JRA student.
Dana Aljarrah (Life Sciences) was awarded the top prize for her poster on "The influence of Apolipoprotein E genotype in neurons derived from induced pluripotent stem cells from European and African donors". She hopes to go on to postgraduate research, and said the scheme had been "an amazing opportunity".

Second place went to Sam Husk (Media, Arts & Humanities) for their research poster "Exploring aesthetic choice in gendered presentation: how can our clothing help actualise our identities?" Sam said the JRA had been "a fantastic and formative experience".
Tom Harwood (Engineering & Informatics), Holly Gilbert (Life Sciences), Elise Stuart (Law, Politics & Sociology) and Deena Taha (Life Sciences) were also shortlisted. Check out their posters on the JRA website.
Separately, Brighton and Sussex Medical School (BSMS) awarded a prize to Melissa Rajalingam for her poster entitled "Motivations for being informal carers of people living with dementia: An updated systematic review".
The winners will be supported to attend the British Conference of Undergraduate Research at Warwick in April, an incredible opportunity to present their work to a wider audience. All JRA students are encouraged to apply.
Taylor Lodge, one of the University's Digital Media Creators, attended the JRA poster exhibition and spoke with the winner and shortlisted candidates. You can watch Taylor's video below: