Sussex Drug Discovery Centre and Sophion Bioscience announce new strategic partnership
By: Jessica Gowers
Last updated: Friday, 21 October 2022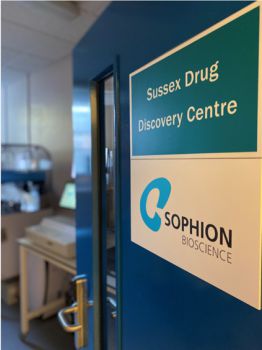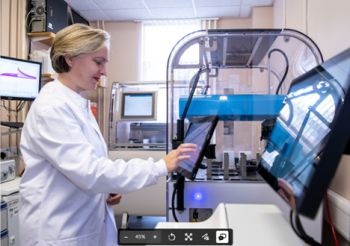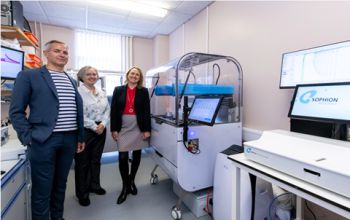 The Sussex Drug Discovery Centre (SDDC), located in the School of Life Sciences, is pleased to announce the formation of a new strategic partnership with Danish biotechnology company Sophion Bioscience. This will provide the Centre with continued access to APC (automated patch clamp) technology and will strengthen their potential for research collaborations with both academic and industrial partners.
SDDC has successfully used automated patch clamp to progress the development of new ion channel-targeted medicines through to clinical trials. The strategic partnership was formed to keep this important but expensive industry-standard technology within academic reach. SDDC's existing structural biology, drug discovery and ion channel expertise, together with other University core facilities such as Cryo-EM, means that they are now ideally positioned to become a UK centre of excellence for ion channel research.
The Director of SDDC, Professor John Spencer added that 'This partnership aligns with our core aim in providing practical training in drug discovery and is a unique educational opportunity to inspire the next generation of ion channel drug discovery experts. A strengthened collaboration between the Sussex Drug Discovery Centre and Sophion Bioscience will provide academic researchers with easier access to state-of-the-art APC technology. We have already hosted our first JRA (Junior Research Associate) student to try this technology during an 8-week research placement this summer'.
Additionally, the strategic partnership, led by Dr Sarah Lilley (Senior Research Fellow in Electrophysiology) will allow the Centre to welcome existing Sophion industry and academic customers to the SDDC laboratories for application development and demonstrations, expanding Sophion's field support operations in the UK.
Deputy Head of Life Sciences for Research and Enterprise, Professor Michelle West said that 'The School of Life Sciences is delighted with this new partnership between Sophion Bioscience and SDDC, which builds on our successes in innovation and forms part of our key aim to grow our industrial partnerships to enhance research excellence and training. The Centre will allow the development of drug discovery projects that will move us further and faster towards new therapeutics that address unmet medical needs'.