Research shows mantids move their limbs similarly to humans when reaching for a branch to perch on
By: Jessica Gowers
Last updated: Monday, 24 October 2022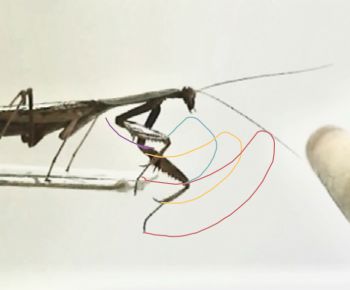 Researchers from the University of Sussex have demonstrated that mantids, such as the Madagascan marbled mantis, move their limbs in a similar manner to large vertebrates, including humans.
Dr Sergio Rossoni and Professor Jeremy Niven of the School of Life Sciences studied the movements of mantids' limbs when they were reaching for objects.
In doing so, they demonstrated for the first time the similarity of the reaching movement of these insects with much larger animals. During the reaches, mantids flex part of their forelimb – the tibia – to grasp objects such as branches and leaves.
The tibia is controlled by two muscles; a flexor and an extensor. The flexor is very large and exerts large passive elastic forces on the limb, which researchers believe are adaptations for catching prey. These passive elastic forces produce movements much larger that what is observed during reaching movements. This means mantids must actively brake the tibial flexion, thereby slowing the limb down and preventing a movement which could damage the limb during reaches.
Dr Sergio Rossoni, a Research Fellow who conducted this study as part of his Masters project at Sussex, said: "Until now, scientists have thought about large and small limbs as different systems. Large limbs, like ours, are heavy and their movements are therefore largely influenced by gravity, an extrinsic force. Small limbs are instead more influenced by the passive properties within the limb itself, called intrinsic forces (tendon/muscle elasticity is an intrinsic force).
"It has been thought therefore that the ways to control these limbs via muscle contraction must be quite different. Active braking was only described in heavy limbs before our study; for example, we do it when reaching for a target with our hands to allow for better limb control.
"Our results show that for the first time this strategy can be used to aid the control of lightweight limbs, too. This suggests that the ways to control heavy- and light-weight limbs are more similar than initially thought. Our findings debunk this black-and-white view of limbs as two separate categories of heavy vs light weight."
Although the forces acting upon the limbs in large and small animals might be different in scale, the way of controlling their movements are similar. The researchers believe this could therefore influence how engineers build artificial limbs to manipulate objects; similar control mechanisms could be used, irrespective of the size of limb being built.
'Braking slows passive flexion during goal-directed movements of a small limb' is published in Current Biology.