Sussex and IDS build world-class partnership in the Americas
By: Peter Boddy
Last updated: Thursday, 13 October 2022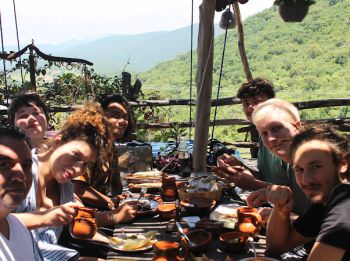 The University of Sussex and the Institute of Development Studies are delighted to have put their partnership with the Universidad Nacional Autónoma de Mexico (UNAM) – one of the most prestigious universities in the Americas, on a formal footing, through the joint signing of a memorandum of understanding.
As our first cohort of students return from the UNAM Summer School in Taxco, southwest of Mexico City, Gina Lloyd, BA Liberal Arts, reflected on her experience. 'I ate great food, met great people and made some really special memories. Everyone who worked at CEPE (UNAM's international teaching centre) was so lovely and welcoming, which eased my nerves straight away and made me feel at home. We learnt so much every day about Mexican culture, each other and ourselves. And lots of Spanish too!! I found a love for travelling and for Spanish and I am so grateful for this opportunity to visit Mexico! '
Sussex was delighted to welcome UNAM students to its International Junior Research Programme over the summer also. Sussex and UNAM are now exploring a formal student exchange agreement, an inbound summer programme for UNAM students, and opportunities for collaborative online international learning (COIL). In partnership with IDS, the universities will develop new opportunities for faculty engagement including guest lectures, as well as pursuing new avenues for research. Prof. Ana Elena González-Treviño, Director, Centre for Mexican Studies, UNAM-UK remarked that 'UNAM, Sussex and IDS have a wonderful potential for collaboration based on our shared values towards making the world a better place'.
UNAM, one of the very best universities in Latin America, is also the largest university in the continent with more than 340,000 students and over 40,000 members of staff. Their main campus, known as Ciudad Universitaria, is a UNESCO World Heritage site and has some of the most recognisable and iconic Mexican artworks. UNAM has eight research-specialised campuses around Mexico and eleven international centres for Mexican Studies around the world, including one in London with whom Sussex and IDS will work in close partnership.
Carlos Maldonado, alumnus of Sussex, IDS and UNAM is delighted to see his two Alma Maters joining forces: "The social character and academic rigour of both universities, provided me with the interdisciplinary tools, career development and personal growth that shaped the professional that I am today. I am sure that by working together the University of Sussex, IDS and UNAM will produce highly qualified professionals with a social perspective who will play a pivotal role in future solutions to many of the great problems facing us in the 21st century".
Prof. Richard Follett, Deputy Pro Vice Chancellor International, added: "The partnership between Sussex, IDS and UNAM will ultimately help bring together some of the most influential minds in globalisation, public policy, innovation, sustainability, human rights, education and climate change, delivering research that will influence policy makers around the world. We are delighted to partner with UNAM and strengthen our collaboration with this leading Latin American university."