Cross-cultural conversation on anti-colonial resistance histories co-curated by Sussex professor
Posted on behalf of: School of Media, Arts and Humanities
Last updated: Wednesday, 7 September 2022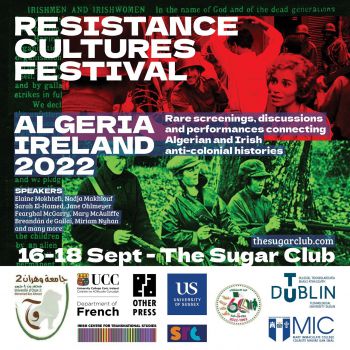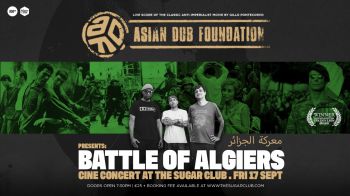 2022 marks one hundred years of Irish independence and sixty years of Algerian independence. To mark these two important milestones Professor Martin Evans (Media, Arts and Humanities) has co-curated the Algeria – Ireland: Resistance Cultures Festival, a three-day festival which brings together Algerian and Irish photographers, filmmakers, musicians, dancers, scholars and writers for the first time for a unique cross-cultural conversation of rare screenings and performances to explore the common anti-colonial resistance histories across these two key moments in the global end of European Empires.
A highlight of the festival will be two cine-concerts where, for the first time in Ireland, drum 'n' bass renegades Asian Dub Foundation take on The Battle of Algiers, the controversial sixties film about urban guerrilla warfare that inspired anti-imperialists across the world. In these special screenings they will bring their alternative edge and breakbeat music combined with North African influences fusing elements of Ennio Morricone's original score to Gillo Pontecorvo's haunting cinematic classic in an inspired synthesis of music and film. The live soundtrack originated as part of the cultural programming that accompanied the 2019 Exhibition in Paris, Paris-Londres: Music Migrations, at the National Museum of the History of Immigration and it is planned that Asian Dub Foundation will also perform this work at Attenborough Centre for the Creative Arts as part of CINECITY this autumn.
During the festival Martin together with his co-curators Mairéad Ní Bhriain (Mary Immaculate College, Limerick), Dónal Hassett (University College Cork), Aoife Connolly (Technological University Dublin) will lead in conversation events with a variety of photographers, filmmakers, musicians, dancers, scholars and writers. Those in conversation include
French-Algerian photographer Nadja Makhlouf who worked with Sussex's Centre for Photography and Visual Culture and Middle East and North Africa Centre at Sussex in 2020 to host a photographic exhibition exploring the complex histories of the Algerian women who fought in the Algerian War of Liberation from 1954–1962, and
American and Algerian activist, translator, and writer Elaine Mokhtefi who helped welcome members of national liberation movements from across Africa and international Black Panther members to Algeria. She also met the likes of Fidel Castro, Ho Chi Minh, Simone de Beauvoir and Nina Simone through her work.
Professor Martin Evans said "History is far too important to be left just to historians so through the Festival we want to explore how artists, film makers, musicians and performers engage with these two anti-colonial histories. We want to set up a complex conversation not just between two countries but also across disciplines, exploring how Algerian and Irish creatives connect the past with the present and the future often through the theme of resistance".
The venue for the festival is The Sugar Club in Dublin. Formally the Irish Film Theatre it is now Dublin's premiere music venue specialising in hip-hop, jazz, soul, afrobeat and world music, and hosting international and Irish artists.
This festival is supported by University of Sussex, University of Oran 2 (Algeria), Southern Regional College, Newry, Irish Centre For Transnational Studies, Mary Immaculate College, Limerick, Technological University Dublin, University College Cork, Other Press, Algerian Embassy, Ireland.