PRME report highlights Business School's commitment to responsible management education
By: Serena Mitchell
Last updated: Tuesday, 16 August 2022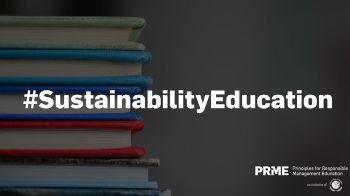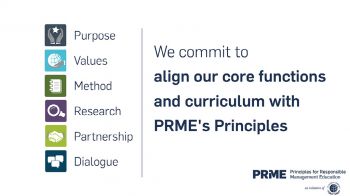 The University of Sussex Business School has published its latest progress report on how it implements the Principles of Responsible Management Education (PRME), a United Nations initiative.
As part of the School's fundamental commitment towards a sustainable future, ethical practice, and social responsibility, it is a member of the UN Global Compact, supporting the UN's Sustainable Development Goals and is a signatory to PRME. It is also recognised by the Responsible Research in Business and Management (RRBM) network as a pioneering member institution.
The 2022 report features the achievements of the Business School over the last two years within responsible management education, covering the areas of teaching, research, and engagement. The School has responded to the challenges and impact of a global pandemic, which introduced more sustainable methods of collaboration through research and engagement. This has led the School to transform its internationalisation strategy to be increasingly sustainable. Since the last report, the School has also won new funding for its work on de-carbonising the economy, as well as for work that links international trade and environmental sustainability.
As society recovers from the pandemic, research, engagement, and education will contribute to building stronger, more sustainable economies. The School's world-leading research is contributing to shaping policy and organisational practice. This influence is evident in our engagement activities, ranging from academic appointments as governmental advisers to community engagement. The School's graduates are equipped with the knowledge, skills, and competencies to make a positive contribution to society.
Some highlights of the report include:
how the School has incorporated the Sulitest (a test of sustainability literacy) into a core business and management module for first-year undergraduate students
circular economy case study – examples of how the School has worked with business using system thinking to create a circular and holistic business from fashion to wider sectors
transforming waste management in India case study – developing sustainable waste management policies in India's cities
the new ESRC Centre for Inclusive Trade Policy – which incorporates citizen involvement in its activities, notably in the areas of labour standards and the environment
the new MSc Sustainable Finance and Accounting - launched to train a new generation of finance specialists.
The report also illustrates how, through its commitment to PRME, the School supports the University's strategic framework of Learn to Transform, Engage for Change, Research With Impact, and Build Strong Foundations.
Read the full PRME report and the UN Global Compact Communication on Engagement – which illustrates how the School continues to support the Compact's ten principles on human rights, labour, environment, and anti-corruption.