Psychology Professor provides specialist training pro bono for Ukrainian diplomats
By: Vicky Trendall Lane
Last updated: Friday, 12 August 2022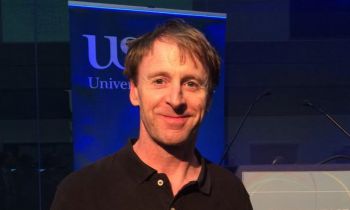 A professor of psychology for the University of Sussex has worked with the Foreign, Commonwealth and Development Office pro bono to deliver specialist communications training for Ukrainian diplomats.
John Drury, Professor of Social Psychology, was approached by the Governmental department's external training company, ComSkills, shortly after the Russian-Ukraine war broke out in February this year, to provide an online training module for Ukrainian diplomats about crowd psychology.
According to Prof Drury, the module - which consists of a recorded lecture, summary document and further reading guide - aims to help the diplomats "understand the most basic crowd psychology processes", in order to "dispel some myths and help with communication" that could support their war effort.
"This comms initiative was set up after the war broke out," Prof Drury explained. "I wanted to help because there is a lot of incorrect and dangerous psychology out there that could have a majorly detrimental impact on people already suffering enough right now."
Being able to provide a training module based on the latest crowd psychology research evidence was a key reason Prof Drury supported the online course.
"Too often, guides and training are based on outdated and poorly evidenced psychology, which can lead to significant problems," he continued. "For example, the idea that authorities shouldn't tell the public about an emergency in case it leads to panic in fact leads to less effective evacuation. And using disproportionate force on a crowd tends to escalate conflict rather than quell it. These are serious scenarios that could very possibly occur within the country's current war status, and need to be handled appropriately.
"Ultimately, I hope my contribution will help the Ukrainian people by upskilling their Government communicators in a way that could potentially be used at a national level."
The module has now been uploaded as part of ComSkills Ukraine, a dedicated video e-learning cloud service, supported by the British Embassy in Kyiv and the Diplomatic Academy of Ukraine, which aims to develop best-practice use of social media and digital tools to achieve diplomatic excellence and enhance communications.