University of Sussex Associate Dean awarded prestigious teaching fellowship
By: Vicky Trendall Lane
Last updated: Thursday, 4 August 2022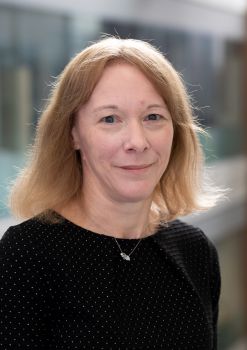 A University of Sussex Associate Dean in Education and Students has been awarded a National Teaching Fellowship from the Higher Education Academy (HEA), it has been announced today.
Dr Susan Smith, Associate Dean (Education and Students) at the University's Business School, , is one of just 55 higher education staff of UK-based institutions to be appointed the accolade, which recognises and celebrates individuals who have made an outstanding impact on student outcomes and the teaching profession.
Since joining the University of Sussex in 2013, following almost two decades of industry experience, including as a director at FitchRatings - one of the 'big three' US credit rating agencies – Dr Smith has been the driving force behind a number of inclusive, student-centric and transformative learning experiences that equips students for the future they wish to pursue.
Dr Smith has been highly influential in supporting student retention, progression and outcomes for all students with particular focus on students in the Business School; developing and leading many outstanding initiatives that build on the values of collaboration and inclusivity, such as the Student Academic Success Advisors, the ASIRE Staff-Student Mentoring Scheme, and a number of staff-student partnerships as part of the University Connector programme. Her collaborative work in this area was recognised with a Learning Together Award at the University Education Awards earlier this year.
Highly regarded for her passion for continuous improvement in teaching, learning and assessment practice, Dr Smith has been instrumental in developing several schemes for professional recognition, as well as building disciplinary professional communities of educators via the Institute of Chartered Accountants in England and Wales (ICAEW), and for promoting educational excellence internally within the Business School and across the University.
Dr Smith said: "To be awarded a National Teaching Fellowship is really exciting and completely unexpected! I was delighted to be nominated by the university, so to go on and win such a prestigious award for doing something that I find so rewarding is a real honour.
A Chartered Accountant with a background in industry, Dr Smith commented "I was initially attracted to academia by the opportunity to share my passion for accounting and to inspire others to join the profession. As I developed my teaching skills, working with large diverse cohorts sparked an interest in understanding and enhancing teaching, learning, and the student experience which led me to take on related roles and have the opportunity to work on a number of remarkable projects with so many inspirational individuals including students, staff and industry partners."
The successful National Teaching Fellows (NTFs) were chosen from over 180 nominations submitted by higher education institutes across the UK, with each institute able to nominate up to three individual members of staff.
Congratulating Dr Smith on her success, Professor Kelly Coate, PVC for Education and Students at Sussex, said: "National Teaching Fellowships are among the most prestigious within higher education both within the UK and internationally. I am therefore delighted for Dr Smith to have her exceptional work, commitment and achievements officially recognised with one. She has played a pivotal role in enhancing the outcomes for many staff and students and is an exemplary example of the top-quality educators we are proud to have here at the University of Sussex."
Alison Johns, Chief Executive, Advance HE also expressed her congratulations "to each and every new National Teaching Fellow on this fantastic achievement":
"At Advance HE, we run the prestigious NTF and CATE (Collaborative Award for Teaching Excellence) awards for the UK higher education sector with enormous pride," she said. "The challenges of offering an outstanding teaching experience in recent years have been very demanding, but the sector has risen to the challenge."
The awards will be formally presented at a celebration event to be held at The World Museum in Liverpool in September.