Public invited to take part in largest ever scientific study into perception
By: Alice Ingall
Last updated: Wednesday, 6 July 2022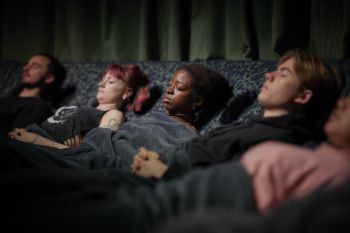 The academic and artistic team behind the immersive art experience Dreamachine today (Wednesday 6 July 2022) launch The Perception Census, an ambitious new scientific study into the unique ways in which we each experience the world around us. The study is led by world-leading neuroscientist Professor Anil Seth from the University of Sussex in collaboration with Professor of Philosophy Fiona Macpherson from the University of Glasgow. The research team aims to reach tens of thousands of people worldwide with the Census, making it the largest study of its kind and the first major citizen science project into perceptual diversity.
Scientists and philosophers have long been fascinated by perception: the process by which the brain helps create our experiences of the world by processing sensory information. Yet little is known about how this process differs for each of us, or how the many influences on perception relate to each other - leading us to each experience the world in our own unique ways.
Participants taking part in the Census will be invited to complete a series of online interactive and engaging tasks, exploring themes such as colours and illusions, time, sound and music, and our beliefs about the world. The variety of responses to the research questions explored, including 'How do our brain's 'expectations' affect what we see?', 'How vivid are our imaginations?', 'How do our senses work together?' and 'How do we sense the passing of time?' will shed unique light on the different ways in which we each encounter the world, how this shapes our lives, and who we are.
As well as contributing to this emerging field of science, those taking part in the Census will have the chance to learn more about their own powers of perception. Connecting thousands of participants around the world, the findings from the study will generate a unique body of scientific and philosophical research and data, which will be an extremely valuable resource for years to come. Initial findings are expected at the end of this year.
Anil Seth, Professor of Cognitive & Computational Neuroscience at the University of Sussex, and lead scientist on the Dreamachine project, said:
'What's really unique about the Perception Census is that we aren't just looking into a single aspect of perception, such as vision, or hearing, or time. By exploring many different aspects of perception together, we'll be able for the first time to understand how these different ways of experiencing the world relate to each other, giving each of us our own, totally unique, 'inner universe'. This uniqeness can be hard to appreciate, because - unlike differences in our bodies - our perceptual experiences are internal and subjective, and this variety remains largely hidden. Just like our externally visible differences, when it comes to perception there's no 'good', 'bad', 'better' or 'worse' - there's just diversity, and in this diversity lies a rich potential to understand ourselves and each other much better.'
The Perception Census is part of the Dreamachine programme, inviting audiences across the UK to explore the extraordinary potential of their own minds. The Dreamachine live experience is inspired by a little-known 1959 invention by artist–inventor Brion Gysin. His experimental homemade device used flickering light to create vivid illusions, patterns and explosions of colour in the mind of the viewer. Designed to be the "first artwork to be experienced with your eyes closed", Gysin had a vision for his invention to replace the TV in every home in America. Instead of passive consumers of mass-produced media, viewers of the Dreamachine would create their own cinematic experiences.
Created by Collective Act, the Dreamachine programme brings together Turner Prize-winning artists Assemble, Grammy and Mercury nominated composer Jon Hopkins, and a team of leading technologists, scientists and philosophers.
Jennifer Crook, Director of Collective Act, said:
'The rich kaleidoscopic world of the Dreamachine comes from within, providing a magical insight into the extraordinary potential of our own minds. The Perception Census deepens this exploration, inviting participants across the world to collaborate in the largest scientific research project of its kind. Our hope is that the discoveries from both, alongside our exciting schools programme, 'Life's Big Questions', will generate a rich resource that will greatly deepen our understanding of the myriad of ways we each perceive the world - igniting the curiosity of new generations and audiences, across ages, countries and cultures.'
The Dreamachine live experience is presented at: Woolwich Public Market, London, where it will run until 24 July 2022; Carlisle Memorial Church, Belfast (25 July – 4 September 2022); and Murrayfield Ice Rink, Edinburgh (13 August – 25 September 2022). It was presented at the Temple of Peace, Cardiff from 12 May – 18 June 2022. More than 20,000 people have experienced Dreamachine already. Tickets for the live experience can be booked via www.dreamachine.world.
The Dreamachine Perception Census launches online on Wednesday 6 July 2022 at 1pm. People all over the world can take part online via dreamachine.world/perceptioncensus, with audience members at the Dreamachine live experience also invited to contribute to the research.
Dreamachine is commissioned and presented as part of UNBOXED: Creativity in the UK.
The Collective Act Creative Team
The Dreamachine programme is a collaboration between:
A New Direction (Award-winning not for profit Education agency)
Assemble (interdisciplinary collective, Turner Prize winners 2015)
Jennifer Crook (Director of Collective Act)
Holition (Award-winning Creative Technology Studio)
Jon Hopkins (Grammy and Mercury nominated composer)
Dev Joshi (Technical Director, technologist behind Rain Room, Random International)
Professor of Philosophy Fiona Macpherson (Director of The Centre for the Study of Perceptual Experience, University of Glasgow)
Professor of Cognitive and Computational Neuroscience Anil Seth (from the Centre for Consciousness Science, University of Sussex)
Dr. David Schwartzman, Dr. Reny Baykova, Mr. Trevor Hewitt (also from the Centre for Consciousness Science, University of Sussex)
Christopher Shutt (Sound Designer, Winner of a Tony Award for War Horse)
Dreamachine is one of 10 major creative projects commissioned as part of UNBOXED: Creativity in the UK. The UK's most ambitious showcase of creative collaboration - across science, technology, engineering, arts and maths - includes free large-scale events, installations and globally accessible digital experiences, and an extensive learning programme reaching millions of schoolchildren.
UNBOXED: Creativity in the UK is funded and supported by the four governments of the UK and is commissioned and delivered in partnership with Belfast City Council, Creative Wales and EventScotland.