Winner of the Sussex International Theory Prize 2022 announced!
By: Eve Wilcox
Last updated: Tuesday, 5 July 2022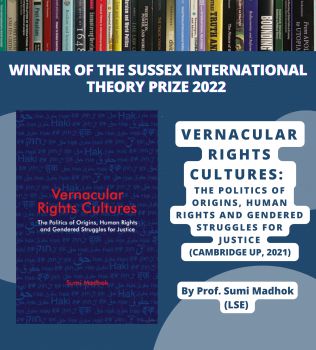 The winner of the Sussex International Theory Prize 2022 is:
Professor Sumi Madhok, with her book:
Vernacular Rights Cultures: The Politics of Origins, Human Rights and Gendered Struggles for Justice (Cambridge UP, 2021)

Prize Statement:
"Vernacular Rights Cultures represents an original and powerful intervention in human rights theory and charts new paths for 'decolonising' international political thought through an engagement with vernacular rights mobilizations in 'most of the world'. The book goes beyond critiquing the Eurocentrism of global human rights scholarship by foregrounding the epistemic presence of rights in the Global South. Combining extensive ethnographic research with a wide range of political theory, Madhok demonstrates that an engagement with vernacular rights cultures opens 'different possibilities and futures for rights and human rights' which 'call into being a different sense of justice and citizenship'.
The book challenges mainstream narratives of 'rights talk' as a European-derived assemblage through a series of rich case studies of subaltern mobilisations in India and Pakistan, especially among women, across a range of issues, including land ownership, environmental degradation and food security. Madhok's study is deeply attentive to the myriad power relations negotiated by activists as they construct, reconstruct and deploy the idea of haq. Part of this analysis traces how gendered subjects of rights come into being in the vernacular. Foregrounding a 'feminist ontology', the book contributes to international theory by expanding our conceptual apparatus and our political imaginaries for more just and viable futures. By grounding our theorising in concrete experiences of oppression and political practices of the struggle against it, On Vernacular Rights Cultures offers the kind of radical analysis and cutting-edge theoretical innovation that the Sussex Centre for Advanced International Theory seeks to promote."

Thank you to all those who participated in this year's prize - the committee enjoyed reading all the submissions!
Congratulations, Sumi!