Winner of the 2022 Kroto Award for Public Engagement announced at special event
By: Jessica Gowers
Last updated: Wednesday, 29 June 2022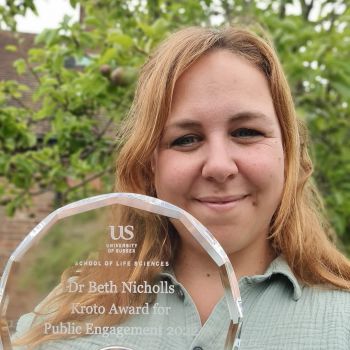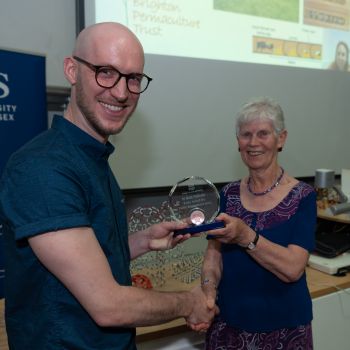 The recipient of the 2022 Kroto Award for Public Engagement was announced at an event commemorating the Nobel Prize winner Sir Harry Kroto on 17 June.
Dr Beth Nicholls was declared this year's winner after a panel of judges selected her from numerous nominees in the School of Life Sciences.
The award is named after Sir Harry Kroto FRS NL, a former University of Sussex Professor who won the Nobel Prize in Chemistry with Robert Curl and Richard Smalley for the discovery of Buckminsterfullerene, also known as the "buckyball" or C60 molecule.
During his lifetime, Sir Kroto was also a keen advocate for outreach, taking part in numerous public engagements and encouraging researchers in his lab to do the same.
This year's award was announced at a special event which saw a Royal Society of Chemistry chemical landmark blue plaque unveiled on the University of Sussex campus in honour of his achievements.
Sir Harry's wife, Lady Margaret Kroto, presented the award at the event to Dr Nicholl's colleague Dr Sergio Rossoni, as Dr Nicholls was unable to attend in-person. Lady Kroto said: "I am delighted to present the Kroto Award for Public Engagement to Dr Beth Nicholls. Harry spent an increasing amount of his time communicating and sharing his enthusiasm for science when he realised how much visibility the Nobel Prize gave him. With this came responsibility and he often said: 'What use is the visibility if you don't make good use of it.'
"In addition to giving workshops all over the world, he established an annual prize for the young scientist who had done the most to communicate their science to the public in Sheffield, where he had completed his first degree and PhD. This prize, awarded by the University of Sussex, truly reflects the spirit of the first one and would have been strongly endorsed by him."
Dr Beth Nicholls is a UKRI Research Fellow in the School of Life Sciences and has expertise in the sensory and cognitive mechanisms driving foraging choices in bees, the implications for plant-insect interactions and the provision of pollination for wildflowers and crops.
Dr Nicholls was nominated for her extensive public engagement endeavours, including her work with the University's Widening Participation team to run workshops for school children demonstrating the importance of bees and other pollinators and her organisation of Soapbox Science Brighton, an annual Public Engagement event promoting women in science. Her work on various citizen science projects was also acknowledged, including work with farmers on urban food production in both Brighton and in Calcutta, India, and work with the Brighton Permaculture Trust to demonstrate the importance of pollinators in community orchards.
You can find out more about Dr Nicholl's public engagement work by watching her acceptance speech on YouTube.
Dr Beth Nicholls said: "I am absolutely delighted to have been awarded the 2022 Kroto Public Engagement Award. It is a real honour to receive an award named after such an inspirational scientist and advocate for public engagement, science outreach and communication. The generous funds associated with the Kroto award will allow me to continue my engagement with Brighton Permaculture Trust and urban food growers across the city. Together we plan to host community events to celebrate both the nutritional benefits of fresh fruit grown in the city of Brighton and the important habitat provided by urban orchards for insects such as bees. Many thanks to my students, colleagues and collaborators for their support with this work and to the SSRP and UKRI for their financial support."
Dr Nicholls received a trophy and a £1,000 prize to support her future public engagement work.
Nick Bull, Knowledge Exchange Manager in the School of Life Sciences, leads the organisation of the award. He said: "The nominations for this year's award were incredibly strong. They demonstrated a broad range of creativity and skills employed to communicate science throughout what has been a difficult year for public engagement. Thank you Jess Gowers for co-ordinating the award. A massive congratulations to Beth on winning and to Jenna and Hazel as runner ups!"
The two runners-up will each receive a £200 prize; Professor Hazel Cox for Chemistry outreach, including the development of a Quantum Leap game and various masterclasses and workshops, and Dr Jenna Macciochi for commitment to communicating the science of our immune system to the media.