Adam Weiler Award: PhD researchers awarded for excellence in impact
By: Katy Stoddard
Last updated: Thursday, 16 June 2022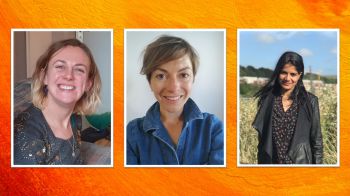 This year's £1,000 Adam Weiler Award, announced during the Festival of Doctoral Research on 9th June, goes to three outstanding Sussex researchers who are conducting game-changing research in very different fields.
The award recognises PhD researchers who demonstrate the potential to make a lasting, positive impact with their work.
Effie Makepeace (Media, Arts & Humanities) is developing innovative methodologies for co-creation through community theatre, democratising and decolonising research practices, and reframing participants as co-researchers to allow them real interpretive freedom. Since 2008 she has been working with a group of ten female co-researchers in Malawi to develop theatre workshops for women to understand and transform the power relations in their lives. For her fieldwork, Effie ran online creative workshops on power with homeless/at-risk women in the UK, and her approach has been applied to projects discussing caste, gender and sexuality with young people in India, and clinical research into TB diagnosis and treatment in Malawi.
Abigail Dunn (Psychology) is working in a new area of mental illness prevention, focusing on what can be done to reduce the risk of mental health problems being passed from generation to generation in families, and spanning both intervention and implementation. Though still a PhD student, she has attracted a £30,000 ARC grant to run a feasibility study of parenting intervention in an NHS inpatient setting, and will act as PI on the project. Abby helped establish the first NHS parent mental health clinic in the UK, and has set up a network for research in this growing field. Her cutting-edge work has the potential to make a major impact for many children and families, on society, and within the field of research itself.
Shalini Nair (Law, Politics & Sociology) is conducting ground-breaking intersectional research examining the #MeToo movement in India, and details how unequal social structures and colonial legacies in law and practice enable sexual violence. Her fieldwork included in-depth interviews with over 60 marginalised survivors across India whose speak-outs had been excluded from the mainstream #MeToo discourse. Her unique theory, grounded in these grassroots movements, could radically change our understanding of sexual oppression and resistance. A trustee for Survivors' Network in Sussex, Shalini's research identifies specific areas for intervention in policy and media reporting, and her journalism is shaping public debate and community practice.
Runner-up prizes of £500 were awarded to impactful researchers in each discipline:
Riziki Millanzi (Media, Arts & Humanities), whose research into 'Black Girl Magic' in speculative fiction is making an important contribution to Black female representation and resistance in popular culture.
Christopher Challen (Engineering & Informatics), who is applying epidemiological techniques to power systems research to improve the resilience of critical electricity infrastructure.
Kaveri Medappa (Global Studies), whose participant observation of platform-based gig economy workers in India raises urgent questions about digital technology and labour rights.
Three researchers were also highly commended for their work.
This year's judging panel included Prof Jeremy Niven (Dean of the Doctoral School), Prof Nuno Ferreira (LPS Director of Doctoral Studies) and Prof Gerhard Wolf (Associate Dean of Doctoral Studies for MAH). The award is supported by a generous donation to the University in memory of a former student.
Full list of awards:
Arts and Humanities
Winner: Effie Makepeace (Media, Arts & Humanities)
Runner-up: Riziki Millanzi (

Media, Arts & Humanities

)
Highly commended: Florian Zabransky (

Media, Arts & Humanities

)
Sciences
Winner: Abigail Dunn (Psychology)
Runner-up: Christopher Challen (Engineering & Informatics)
Highly commended: Eleni Ladikou (BSMS)
Social Sciences
Winner: Shalini Nair (Law, Politics & Sociology)
Runner-up: Kaveri Medappa (Global Studies)
Highly commended: Ian Hadden (Psychology)
Further information: http://www.sussex.ac.uk/internal/doctoralschool/funding/doctoralimpact