This Sussex Life. Alumnus and writer Dean Atta: 'I knew I was going to Study at Sussex'
By: Jacqui Bealing
Last updated: Monday, 6 June 2022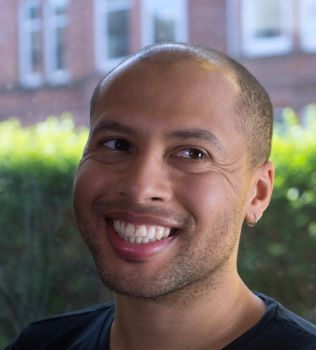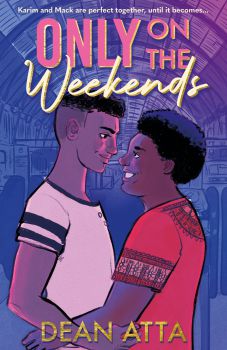 Sussex alumnus and LGBTQ champion and writer Dean Atta remembers his student days and describes how his dyslexia influences his poetic style.
I instinctively write in poetry, and often with rhyme. It's the way my mind tends to work. It might be down to reading lots of Dr Seuss books and Roald Dahl's Revolting Rhymes as a kid. I liked rereading books as a child because there was a comfort in not stumbling and not finding it too challenging.
I didn't realise I was dyslexic until I was at university. I did English and Philosophy at Sussex [graduating in 2006] and I was quite apprehensive about the amount of reading involved, but I had managed to get through A level. At Sussex I was fortunate to receive the right support.
I have come across a lot of poets who are dyslexic. For me, I find it easier to read a poetry collection. It's not the number of words that's the challenge, it's how they are laid out. A poem gives you the space to process and digest the words.
I knew I was going to study at Sussex when I came to an open day. I was on the tour and I happened to talk to two Black students, who said it was really great and that they had met so many cool people, and that they hoped I'd come to Sussex. I thought, if they say so, then I will! It made a difference to me that it wasn't the tour that convinced me, it was other students who stopped to say 'hello'.
I enjoyed living on campus so much that I became a residential advisor (RA) in East Slope during my third year, where I'd also lived in my first year. I took advantage of everything on offer at University as well as getting a good education. I was in so many societies – acting, president of the African Caribbean society, and I was Black student rep for the Students' Union [Atta's father is Jamaican and his mother Greek-Cypriot] – that it meant I really had to curtail my social life in my third year and get my head down in the Library to get a decent degree.
When I had a chat with a careers advisor at Sussex, I said I wanted to write, perform, and work with young people. A year after leaving I was doing all of those things – I was working at The Lyric in Hammersmith in their education department, helping on young people's programmes and running workshops there and elsewhere, performing poetry. It happened pretty quickly and it hasn't stopped.
My first book of poetry, I am Nobody's Nigger (2013), was shortlisted for the Polari First Book Prize, and I was named as one of the most influential LGBT people in the UK by the Independent on Sunday. I'm a patron of LGBT+ History Month and I'm someone who wants to champion and talk about LGBTQ issues. I'm happy to be part of that community and to be one of many spokespeople in that regard.
When I wrote The Black Flamingo (2019), which is a about a young mixed-race gay teen coming out as gay at high school and discovering a love of drag performance at university (a mirror or my own experience), I came to stay on campus for a week to share it with students and get feedback. It's partly set at university and I wanted to remind myself what it was like. Prior to Covid, I frequently came back to Sussex to give talks and workshops.
I dedicated The Black Flamingo to my grandfather, George. The Black Flamingo was also my drag act name, inspired by the sighting in Cyprus of a rare black flamingo, which made the news. My grandfather said, 'The other flamingos don't care what colour he is,'. Being Black in a white family, this resonated with me. George is sadly no longer with us, but I feel we have that moment forever.
My new novel, Only on the Weekends, is set in Glasgow, where I now live, and is about a long-distance relationship. I've had long distance relationships and they never work out, but my novel's character, Mackintosh doesn't know that. It's a romance. There are other relationships that feature – but the focus is the romantic relationship to the detriment of other friendships. It's about how you can be the forgotten-about friend.
Age isn't a huge barrier among poets. You get poets who are teenagers and those in their 50s,60s, 70s, 80s… Obviously people might have different accomplishments but you are all there as fellow writers. We just respect each other for our ideas and the stories we want to tell.
I knew I had a voice and ideas I wanted to write and share. At my early performance events I would start from somewhere in the audience. I would just start performing my poem without anyone introducing me. I would stand up from my seat or walk from the back of the room. It always worked because it was always a surprise.
I've been lucky to meet and work with a lot of inspiring writers. I saw Derek Walcott in action and I liked how he worked with classic texts. John Agard was lovely to me from when I first met him and we went to St Lucia together and worked in schools. I was in awe the whole time. Benjamin Zepahniah has mentored me and is inspirational. I saw Lemm Sissay's show Something Dark at the Gardner Arts Centre a long time ago. It really blew me away and I was following his career from that point onwards. It's special that I can call him up as a friend.
My next book is my memoir, written in non-fiction prose. I'll be interspersing it with poems. I have started to feel ok about the 'business' of books. It's not just a creative endeavour. It's about finding readers and creating a market. I am happy to be a part of those conversations.
This profile is part of our This Sussex Life series.