Team Sussex paint the town yellow at Brighton Marathon Weekend
By: Sally Atkinson
Last updated: Thursday, 5 May 2022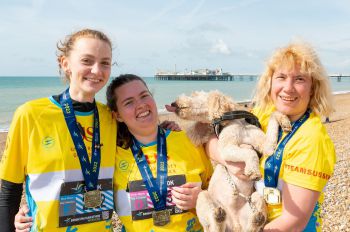 On Sunday 10 April 2022, an inspirational group of alumni, staff and students from the University donned bright yellow Team Sussex tops and made their way to Preston Park in the early morning sunshine, to start their events in the Brighton Marathon Weekend 2022.
Some had been complete beginners when they registered to take part, stepping into the unknown for a good cause, while others were more experienced runners looking to challenge themselves in a new way and support their university. After months of training and reaching out to friends, family and networks for donations, they were ready.
Over the course of the next few hours, all the Team Sussex participants successfully completed their chosen event. Staff from the Development and Alumni Relations Office tracked their progress around the course, cheering them along the way and were on hand in the Charity Village to congratulate them on their fantastic achievement when they crossed the finish line. It was a pleasure to see so many smiling faces as people reflected on their results and how far they'd come.
Martha Knott wrote, "I originally signed up with other Sustainability Team staff to fundraise for our Big Biodiversity Conversation and help support new biodiversity projects on campus. I think at first, I didn't really believe I would end up completing the 10k. I had never run before, except for the bus! But working with other staff who were taking part and seeing them make progress in their own training really motivated me to carry on with Couch to 5k."
"I ended up walking on the day due to illness, but now I'm excited to get back to running and find a 10k to compete in later this year!"
This year, in line with Sussex's ambition to be one of the most sustainable universities in the world, the focus of the Team's fundraising was on biodiversity projects in and around our beautiful campus. Meanwhile, a number of participants continued fundraising for mental health research at Sussex, which had been the Team's focus in 2021.
We are hugely grateful to each member of Team Sussex for going the extra mile for their university and to everyone who supported them along the way.