UK-first energy project to research how 5G can cut consumer energy costs and carbon emissions
By: Neil Vowles
Last updated: Wednesday, 27 April 2022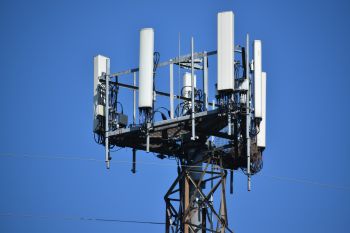 A new UK-first research project to investigate and strengthen links between 5G platforms and the energy sector to improve flexibility and resilience, cut consumer costs and carbon emissions has been launched.

The Green, Connected and Prosperous Britain research Network Plus project, featuring academics from the University of Sussex School of Engineering and Informatics, is funded by a £1.1million grant from UKRI and will make recommendations to energy companies and government over the next two years.
The UK's energy sector is a powerful example of risks we face continuing with our current energy system:
• Most UK electricity grids which link power plants to homes & offices serve over 28 million electricity points (smart meters & fuse boxes) are heavily centralised and often analogue-controlled. That means their facilities are brought online manually at times of peak demand which creates major capacity risks increasing the chance of power cuts at peak times e.g. when there are freezing temperatures.

• Those risks are increased with the problems that renewable energy has in producing energy consistently at all hours of the day when used in centralised and analogue-controlled electricity grids.

• Achieving net-zero in UK will require widespread renewable energy use, but with a different approach so it can produce consistent energy at all hours of the day That means using the huge potential of smart technology to produce renewable energy consistently around the clock.
Increased use of 5G in the energy sector to replace the UK's centralised analogue systems could lead to huge carbon emission savings and huge savings for consumers because:
• 5G facilitates a radically different approach where people, buildings, cars etc no longer just use energy as 'consumers' but are enabled through smart technology to produce and offer energy back to the grid as 'prosumers'. The huge increase in electric vehicle ownership and number of charging points near homes, offices and shops offers consumers the chance to provide as well as consume energy at a large scale for the first time. For example, instead of charging their car, a charging point owner could offer some of their charging time into the energy grid and be paid for the energy they sell. Doing this on a large scale could reduce peaks in demand through decisions made in communities and appropriate communications technology rather than by national centralised systems.

• 5G and smart technology enables widespread renewable energy use by moving away from decisions taken by centralised analogue energy systems to a decentralised system which enables people and their buildings to produce renewable energy and sell it into the network.

• Smart energy systems could save 7.7 billion tons of CO2 emissions, equivalent to over 23% of the global decarbonisation that is needed before 2050) compared to today's energy sector. The reductions are the result of changes in energy, mobility, transport and communications sector approach to change the way we score our net-zero goals.
A team of researchers led by Professor Sandra Dudley-McEvoy from London South Bank University (LSBU) , Professor Maziar Nekovee (University of Sussex), Professor Goran Strbac (Imperial College London), Dr Kathryn Buchanan and Professor Riccardo Russo (University of Essex) together with a range of industry collaborators from both telecommunication and energy sectors, will conduct a detailed research study over two years.
Maziar Nekovee, Professor of Telecoms and Managing Director of the 6G Lab at the School of Engineering and Informatics, University of Sussex, said:
" The greatest potential for the communications sector is to help other sectors reduce their carbon emissions, drive resilience and flexibility with predictive modelling and demand side control. This can be achieved through digitisation and "smartisation" - which are key enablers for low carbon connected digital energy infrastructure.

"This project grows a research and enterprise network of international significance, tasked with developing a world first eco-system of research and innovation determined to overcome the cross-sectoral and cross disciplinary challenges for the evolution, adaptation and smart control and sustainable system of systems of combined telecom, mobile and energy systems.

"The project will bring together advantages and insights that the communications industry can provide to the energy sector. The University of Sussex's 6G Lab will lead the work on 5G and 6G mobile communication technologies and facilitate development of new mobile solutions that enable orchestration of next generation energy networks and smart grids, including millions of Electric Vehicles (EVs) predicted over the next few years.

"This will offer flexible supply and demand that could be intelligently optimised and dynamically adapted using Artificial Intelligence to deliver the smarter and lowest emissions outcomes for electricity network operators and consumers. As part of the Network Plus, we are delighted to also work closely in this project with our industry partners from telecom and mobiles sector, Samsung R&D UK (SRUK) and InterDigital."
Professor Howard Benn, VP Communications Research, Samsung R&D Institute UK, said: "Samsung are committed to sustainable growth. As a global corporate citizen, we strive to make a positive impact while delivering innovative products and services. The UKRI-Funded Network Plus "A Green, Connected and Prosperous Britain" promises to deliver an exciting new development in using 5G to reduce the UK's carbon footprint. Samsung will be working with the UK Universities to support our conservation strategies and eco-friendly solutions that will lead the way to a more sustainable future."
Sandra Dudley-McEvoy, Professor of Communication systems and Director of Research in LSBU's School of Engineering, said: "Our £1.1 million research project will for the first time investigate how smart technology and 5G can cut consumer energy costs and carbon emissions. It's vital we think in new ways about where we get our energy from and how it's produced. If we don't we risk increased financial costs and irreparable damage to our planet.
"One area our research network will study is how smart technology can be used to enable a decentralised network that assists people to produce and sell energy back into the grid, instead of just consuming energy from centralised systems. That could mean carbon emission cuts and savings in how much we spend on our energy bills."