Take part in Commit To Get Fit 2022
By: Terry Cooper
Last updated: Thursday, 21 April 2022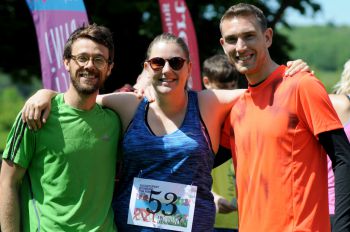 The last few years have been challenging, but getting active and getting some outdoor activity can help us promote an overall wellbeing. We hope that you can join Sussexsport in their positive challenge to get active, try a new activity and make some time for ourselves.
Commit to Get Fit is a month-long initiative designed to support University of Sussex staff to be active, through challenges and provide opportunities to try new activities. The month consists of a boundary walk, a boundary run, specific staff only sessions, daily challenges and access to facilities through the free 30 days Commit To Get Fit membership,
You can join new colleagues or colleagues you haven't seen for a while for a game of tennis, badminton or table tennis. Attend a class or visit the fitness room. You can even contact Sussexsport and look to put on a session for your team, maybe a relaxing yoga session, an indoor cycle class or a de-stress yoga and breathing session. Let Sussexsport know what you would like to do and they can look to make it happen!
The month also consist of a distance based challenge, Commit to Get Far, that can be used within teams, on your own or at home with your family. Although the Commit to Get Fit is only through May, the Commit To Get Far challenge can be carried on beyond May. No team size is too small or too large, and it is encouraged to get active with friends,family and colleagues. There is no time limit or a first place, just a challenge to be active.
The 840 mile Commit To Get Far challenge takes you along the part of the South West Coastal Path from Torquay in Devon to Poole. The next trail is the famous South Downs Way from Winchester to Eastbourne, look out for the climbing challenge during this trail, as the trail enters Sussex and onwards to Devils Dyke. Once we have left Eastbourne we travel to towards Greenwich to meet the Thames Path taking us from London to Cirencester.
The route is part of the Centurian Races that happen every year. Once we have reached Cirencester we move onto the beautiful Cotswolds Way which starts in the roman city of Bath and finishes in Chipping Camden. The second to last trail is the longest and takes us north along the Pennine Way from Edale in the Peak District National Park.
The Pennine Way path was an idea inspired by another famous trail, the Appalachian Trail, and is arguably the toughest trail to complete on this challenge; the solo attempt will need endurance to keep going. Once you have completed the Pennine Way it is our final push from west to east across Hadrian's Wall, which became a National Trail in 2003.
For more information on how to join and FAQs, check out Sussexsports dedicated webpage here: http://www.sussex.ac.uk/sport/staff/ctgf2022 or contact t.cooper@sussex.ac.uk