Professor Jonathan Bacon remembered at special memorial event
By: Jessica Gowers
Last updated: Thursday, 21 April 2022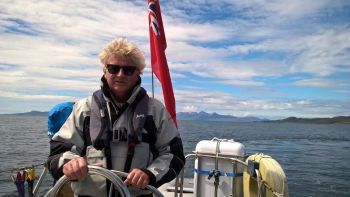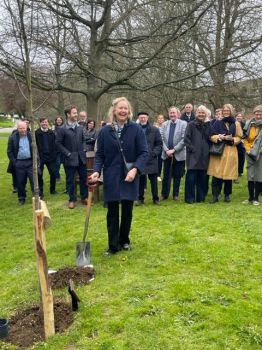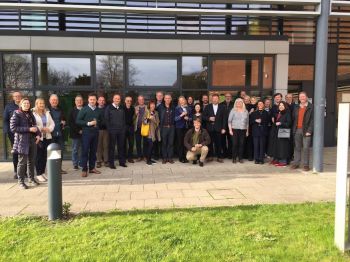 The life and work of the late Professor Jonathan Bacon was celebrated at an event on Friday 8 April.
Professor Jonathan Bacon (26 August 1950 – 5 November 2021) worked at the University of Sussex from 1984 until his retirement in 2020. During his time at Sussex he contributed in many ways; as a memorable teacher, as a remarkable Neuroscientist with endless curiosity about animal brains and behaviour, as Deputy PVC (International Education), Dean of the School of Life Sciences and Head of Engineering and Informatics.
The memorial, consisting of talks about his science as well as personal reminiscences, was held on campus and streamed live online.
A rowan tree was planted in his memory by his wife, Marion Nicolai Bacon, chosen for the berries they provide birds in the Autumn. Adorned with a plaque, the tree can be found outside the Meeting House.
Marion said: "I was very touched and moved by so many interesting talks, pictures, memories and contributions from all over the world. The day was a fitting tribute to Jonathan and a powerful reminder of how much he was loved by his colleagues and friends."
The event started with a welcome and biography of Professor Bacon by Dr Sarah King, followed by talks on his science by Professor Pierre Nouvellet, Dr Pauline Phelan, Professor Jonathan Blagburn and Professor Nick Strausfeld.
In the afternoon Dr Kevin Thompson and others shared anecdotes from working with Jonathan in the lab and personal recollections from friends and colleagues were also shared. The event concluded with a drinks reception.
Co-organiser Professor Daniel Osorio in the School of Life Sciences said: "We were reminded of Jonathan's kindness, competitiveness, and the commitment he gave to everything he did. I had no idea that he was Queen's Scout! It was wonderful to see so many former lab. members as well as colleagues from across the University, and especially Jonathan's family and old friends."
An obituary for Professor Jonathan Bacon written by Professors Daniel Osorio and Francis Ratnieks of the School of Life Sciences can be read on the website here.
Nick Bacon, Jonathan's son, is currently fundraising for The Brain Tumour Charity in memory of his father and will be running in the 2022 London Marathon. Find out more and donate via JustGiving here.