Journalist Gary Younge topples the ideology surrounding statues at University of Sussex talk
Posted on behalf of: Alice Ingall
Last updated: Friday, 1 April 2022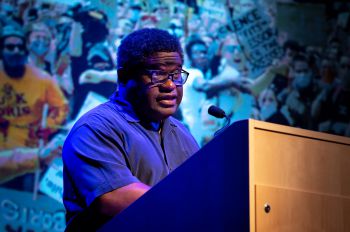 Renowned journalist and sociology professor, Gary Younge headlined a talk on the historical merit of statues on Wednesday 30 April at the University of Sussex.
He was speaking at Attenborough Centre for the Creative Arts at an event entitled 'Not set in stone: Why we need more honesty and fewer statues', which is part of the University of Sussex School of Media, Arts and Humanities Festival of Ideas.
Drawing on his experience as chairman of the Trafalgar Square fourth plinth committee, and more recent statue debates following the Black Lives Matter protests, Younge countered arguments that the removal of statues equates to the erasure of history, arguing that: "To remove a statue is not to erase history. That is a nonsense. Statues are not history. They reflect the value systems of the prevailing hierarchy."
He went on to argue that rather than shining a light on the lived experience of the people and events they purport to commemorate, they are "symbols of reverence, not symbols of history" that are "short-sighted" and often "performative".
But what purpose do statues serve? Certainly not historical closure, according to Younge.
Highlighting the recent example of the toppling of the Edward Colston statue during the Bristol Black Lives Matter protests, he pointed to the fact that many are still feeling the negative effects of the British colonial slave trade, of which Colston was a proponent and beneficiary. Why would they want the "architects of their persecution put on a pedestal", questioned Younge.
He went on to say that: "it is the people who argue against the removal of statues who often don't want to engage with the reasons as to why they are being removed. We have an inability in this country to digest history; we end up choking on it."
Social justice movements have long campaigned for new or different public monuments, from the first woman in Parliament Square to animals made to serve in war. Is that the answer? Not so, said Younge, who pointed to the retrospective statue of Rosa Parks. Even these, he argued, cannot represent the work of a movement of people, or even the prevailing attitude towards that person in their lifetime, and in seeking to do so can distort history.
Dr Victoria Walden from the University of Sussex department of Media and the Future of Holocaust Memory Project, who joined Younge in a discussion following his address, agreed, pointing to findings of studies looking at the response of visitors to some holocaust memorials, commenting that "monuments create a superficial response in terms of how we've learned to emotionally respond to memorials. But they don't create action."
So, what is the solution? Both Younge and Walden argued that we need more nuanced, critical, creative and, crucially, interactive spaces to explore the diversity of historical experiences.
Younge spoke of his recent experience volunteering in his daughter's primary school, teaching heritage studies. He hopes that there will be, in the wake of Black Lives Matter, more spaces created for honest critique and engagement with the history and legacy of the British colonial empire.
But is the mass removal of statues of those individuals deemed morally problematic a symbol of nihilism, he asked? Another aspect of the current culture wars we've all heard so much about, wondered Younge?
"Taking down statues is not new" argued Younge. "Keeping them up for as long as we have done is.
"Statues should be the end of the conversation…First we need a reckoning with our national story."
And to committees that might be considering commissioning a shiny new bust of someone they deem worthy of adulation he argued:
"Let's not burden future generations with faulty memories in stone."