Take a trip on the Dreamachine: get your free ticket for critically acclaimed immersive experience
By: Neil Vowles
Last updated: Thursday, 9 June 2022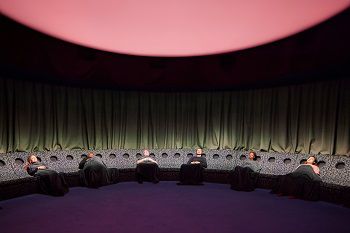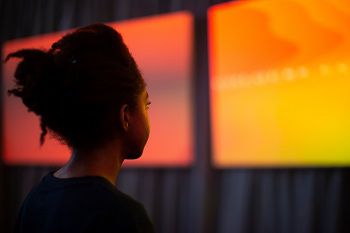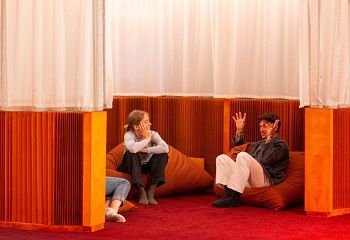 Consciousness experts at the University of Sussex have worked with award-winning artists and musicians to develop a unique immersive experience which may also help reveal new insights into how we perceive the world.
Launching to critical acclaim, with 5* reviews in the Guardian and Evening Standard, Dreamachine is a powerful new collective experience exploring the limitless potential of the human mind. Sussex neuroscientists Professor Anil Seth, Dr David Schwartzman, Dr Reny Baykova, and Trevor Hewitt helped create Dreamachine, which forms part of the world's largest-ever citizen science research study into perceptual diversity.
The Dreamachine live experience leads audiences through an immersive environment of light and sound created by, and unique to, every participant. It is running in London (10 May - 24 July), Cardiff (12 May - 18 June), Belfast (25 July - 4 September), and Edinburgh (13 August - 25 September). Tickets are free and available to book now for London and Cardiff, but booking-out fast, though walk-ups are often available. Visit the Dreamachine website to find out more and to book tickets.
Dreamachine is commissioned and presented as part of the UK Government-funded festival UNBOXED: Creativity in the UK. Created by Collective Act, the project brings together Turner Prize-winning artists Assemble, Grammy and Mercury nominated composer Jon Hopkins, and a team of leading technologists, scientists and philosophers.
The project also feeds into the Perception Census - one of the largest scientific research projects of its kind. The Census, which launches later this month, will be available online to everyone and will explore how peoples' inner experiences differ from each other.
Anil Seth, Professor of Cognitive & Computational Neuroscience at the University of Sussex, and lead scientist on the Dreamachine project, said: "One aspect of the Dreamachine project that has been particularly rewarding for me is that the science and philosophy has been built into the project from the very beginning – it's a true collaboration across disciplines.
"And as an experience for participants it's proving to be enormously impactful. We've become so used to being passive consumers of culture and of information, and the content we consume is becoming ever more tightly curated.
"Dreamachine is completely unique in that each participant generates their own perceptual world - their own individual inner universe. People are experiencing, for themselves, the power and potential of their own minds and brain, and we researchers have an unprecedented opportunity to learn about how people perceive the world differently. My hope is that the experiences revealed by the Dreamachine, together with the upcoming Perception Census - the first major citizen science study into perceptual diversity, and our exciting schools programme, 'Life's Big Questions', will kindle the curiosity of new generations and audiences across the UK."
Dreamachine is one of 10 major creative projects commissioned as part of UNBOXED: Creativity in the UK – the UK's most ambitious showcase of creative collaboration across science, technology, engineering, arts and maths which includes free large-scale events, installations and globally accessible digital experiences, and an extensive learning programme reaching out to schools across the country.
The project is inspired by an extraordinary but little-known 1959 invention by artist–inventor Brion Gysin. His experimental homemade device used flickering light to create vivid illusions, kaleidoscopic patterns and explosions of colour in the mind of the viewer. Designed to be the "first artwork to be experienced with your eyes closed", Gysin had a vision for his invention to replace the TV in every home in America. Instead of passive consumers of mass-produced media, viewers of the Dreamachine would create their own cinematic experiences.
The academic members of the Dreamachine team, which also includes Professor of Philosophy at the University of Glasgow Fiona Macpherson, UCL Neurologist Professor Ley Sander and a wider network of collaborators throughout the UK, are investigating the idea that flickering lights impose a 'beat' on the rhythms of brain, similar to the 'alpha' rhythm – a brain state normally associated with relaxation.
More broadly the project explores perceptual diversity with researchers collecting feedback from Dreamachine audiences about what they experienced using traditional survey methods including questionnaires and open-ended questions, drawing stations, as well as bespoke interactive software that will allow people to visually recreate aspects of their experience.
The wider Perception Census will involve a suite of online surveys and simple, fun, engaging tasks that will explore different aspects of how people perceive the world.
Around 50,000 people are able to experience Dreamachine across the UK while the aim is for hundreds of thousands more to participate across the schools programme and Perception Census.
Free tickets are available to book via www.dreamachine.world
Dreamachine is a collaboration between:
Jennifer Crook (Director of Collective Act)
Assemble (interdisciplinary collective, Turner Prize winners 2015)
Jon Hopkins (Grammy and Mercury nominated composer)
Christopher Shutt (Sound Designer, Winner of a Tony Award for War Horse)
Professor of Cognitive and Computational Neuroscience Anil Seth, Dr David Schwartzman, Dr. Reny Baykova, and Trevor Hewitt (University of Sussex)
Dev Joshi (Technical Director, technologist behind Rain Room, Random International)
Professor of Philosophy Fiona Macpherson (Director of The Centre for the Study of Perceptual Experience, University of Glasgow)
Holition (Award-winning Creative Technology Studio)
A New Direction (Award-winning not for profit Education agency)