New study sheds light on the evolution of centromeres with innovative genome sequencing project
By: Jessica Gowers
Last updated: Wednesday, 17 November 2021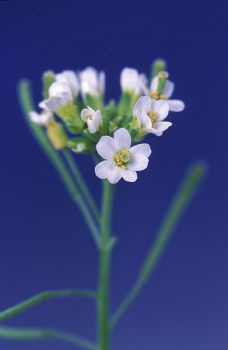 A team of researchers have successfully sequenced the genome of the world's most widely used model plant species at a level of detail never previously achieved. The study, published in Science, reveals new insights into the evolution of centromeres; a genomic region key to cell division.
Arabidopsis thaliana is a plant that is well suited for genetic studies, given its small size, fast life cycle and ease of growth. First sequenced over 20 years ago, it was among the very first organisms to have their genome fully assembled into chromosomes, along with humans.
However, some genomic regions, such as centromeres, were not part of these original assemblies, largely due to their highly repetitive and complex DNA make-up.
Centromeres attach chromosomes to spindle microtubules during cell division in mitosis and meiosis, allowing chromosome segregation to the opposite daughter cells.
With the advent of new DNA-reading technologies, a team of international researchers including Dr Alexandros Bousios of the School of Life Sciences, have now been able to successfully perform ultra long-read sequencing and fully assemble the Arabidopsis genome, including, for the first time, these important but mysterious genetic regions.
Dr Bousios, a Royal Society University Research Fellow, said: "Our work has opened the door for research into the dynamics of centromere function and evolution. We found centromeres are composed of tens of thousands of copies of a repeated sequence of DNA that is 178 nucleotides (nt) in length. These repeats support the high occupancy of a centromere-specific histone (a type of basic protein), which is instrumental in the process of cell division. Intriguingly, every centromere in Arabidopsis has its own 'private' variants of the 178nt repeat, suggesting that repeat homogenization occurs through recombination pathways that take place within each chromosome. The aim of homogenization is to maintain the repeats close to their optimal sequence to ensure maximal histone recruitment.
"Surprisingly, we found the repeats are not the only inhabitants of centromeres; a specific type of mobile DNA elements called the ATHILA elements, have invaded the Arabidopsis centromeres, disrupting their genetic and epigenetic organisation. ATHILAs were up until now considered as 'dead' elements in this plant, previously found mostly degraded and only interspersed in the genome; in contrast, we found many centromeric ATHILAs are young and intact, and possibly capable of transposition (movement from one genomic site to another). Intriguingly, not all centromeres have been equally invaded by ATHILAs.
"ATHILAs are disruptive forces for centromere homogenisation. Collectively, we propose that each centromere represents a different stage in cycles of repeat homogenisation and this ATHILA-driven disruption. These opposing forces provide capacity for both homeostasis and fast evolution."
Dr Bousios added: "Being experts in transposable element research, our lab did most of the heavy lifting on the ATHILA side of this project. It was a great international collaboration. There is more to come on the story of the Arabidopsis centromeres in the near future!"
The study, led by the University of Cambridge, also involved researchers from the Johns Hopkins University, Salk Institute for Biological Sciences, Gregor Mendel Institute, CEITEC Brno, University of Sheffield, University of Tokyo, Cold Spring Harbor Laboratory, LMU Munich and Max Planck Institute for Plant Breeding Research.
The genetic and epigenetic landscape of the Arabidopsis centromeres is published in Science.