New UKTPO analysis identifies £44 billion in lost trade in the first seven months of the EU-UK trade deal
By: Neil Vowles
Last updated: Monday, 15 November 2021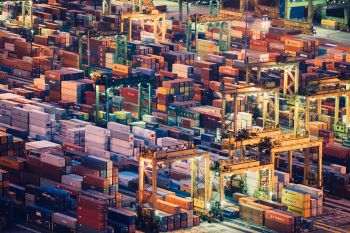 The terms of the EU-UK trade deal caused UK exports to the EU to fall by 14% and trade in the opposite direction to fall by almost a quarter in the first seven months of its enforcement, analysis by the UK Trade Policy Observatory (UKTPO) at the University of Sussex reveals.
The reduction in trade brought about an estimated combined hit to the UK economy of around £44 billion with £32.5 billion lost in potential imports to the UK and £11 billion in exports to the EU, according to new UKTPO analysis produced for the latest episode of Channel 4 Dispatches airing tonight (8:30pm Monday 15 November 2021)
The impact of the EU-UK Trade and Cooperation Agreement (TCA) was felt even more strongly in the services sector, leading to 12% drop in exports and a 37% reduction imports over the first two quarters of the year, the UKTPO analysis reveals.
The researchers warned that while some of the trade hit, notably among UK exports to the EU, could be accounted for in teething transition problems at the start of the year, the loss of EU imports into the EU persisted at the same rate in the second quarter of the year suggesting it would remain an ongoing issue.
The UKTPO researchers were able to isolate the Brexit effect from other economic shocks, notably the Covid-19 pandemic, by employing three econometric techniques.
Michael Gasiorek, Director of the UK Trade Policy Observatory and Professor of Economics at the University of Sussex Business School, said: "The immediate impact on UK trade for firms and for consumers has been sharp and in many cases severe. In the longer-term, this will affect UK jobs and investment, and the challenges will be harder for small and medium sized enterprises to overcome."
Guillermo Larbalestier, Research Assistant in International Trade at the UK Trade Policy Observatory, said: "The evidence our analysis has uncovered on the impact of UK services trade reflects some of the worrying costs of Brexit for the UK economy. UK Trade with the EU has declined so much since the implementation of the TCA that it has largely compromised the UK's post-pandemic economic recovery."
The UKTPO research also found that tariffs were still being applied on a quarter UK preferential exports to the EU covered by the free trade agreement, as UK firms continued to struggle with the complexity, the cost of paperwork and the detail of requirements needed to meet the conditions of rules of origin needed for zero-tariff.
In total, UK exports to the EU worth between £7.89 billion and £10.56 billion incurred tariffs in the first seven months of the new trading conditions. Tariffs on some agricultural products can be over 50% while for many items of textiles and clothing the tariffs are set at 12% or 16%.
The impact on UK exports varied considerably among different sectors in the first six months of the year, the analysis showed. The worst hit-sectors, plagued by persistent and lingering losses were:
Footwear & headgear -77.2%
Textile and clothing -60.2%
Vegetable products -43.5%
The impact on EU imports into the EU was more evenly felt across all sectors with the hardest hit being:
Chemicals -50%
Animal/veg fats/oil -46%
Footwear and headwear -45.1%
Nicolo Tamberi, Research Officer in International Trade at the UK Trade Policy Observatory, said: "The extent and sustained nature of the decline in UK imports from the EU as a result of Brexit as revealed in our analysis is slightly surprising but also very concerning. We need more evidence to understand the driving factors."
Yohannes Ayele, Research Fellow in the Economics of Brexit at the UK Trade Policy Observatory, said: "For some firms which can meet the rules of origin it is simply not worth it because the tariff is so low, but for other firms such as in textiles and clothing the need to satisfy rules of origin appears to have hit hard."