The world's biggest virtual festival of kindness returns for World Kindness Day
By: Alice Ingall
Last updated: Tuesday, 16 November 2021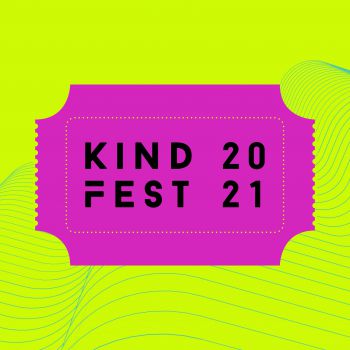 On World Kindness Day, Saturday 13 November, the world's largest online festival of kindness, KindFest, returned with a star-studded line-up of speakers and performers – and once again, as a key KindFest partner, the University of Sussex is offering free tickets to all students, staff and alumni. The festival, which is in its second year, is powered by a volunteer network passionate about exploring how kindness can build a kinder and more resilient world.

KindFest2021 attendees were treated to an inspiring range of events from researchers, artists, charity leaders, volunteers and young people who are all working in different ways to make the world a kinder place and included: primatologist Dr Jane Goodall; Sarah Ferguson the Duchess of York; children's authors Giles Paley-Phillips and Onjali Rauf; Eden project founder Sir Tim Smit; Downton Abbey actor and animal rights campaigner Peter Egan; positivity coach Holly Matthews; Hyphen the rapper; Piers the Poet; Marc the Vet; Jackie Weaver of Zoom council meeting fame; and former Sussex Provost Saul Becker. Special performances were given by Oritsé Williams, Choir of the World, London Community Gospel Choir, and more.

KindFest took place live on Saturday 13 November from 13.00-19.00, but ticket holders are able to access all KindFest2021 content for 30 days after, with members of the University of Sussex community being able to claim their free ticket throughout that period.

Founding curator of KindFest and Head of the School of Psychology at the University of Sussex, Professor Robin Banerjee once again teamed up with BBC Radio broadcaster and Visiting Professor at Sussex, Claudia Hammond to co-curate a session in the virtual tent, 'Us', exploring the latest research, thinking and initiatives on kindness in our community.
Prof Banerjee says of KindFest21: "It's an exciting time for research into kindness, with more evidence emerging on the powerful impacts of kindness in our lives, and the findings from The Kindness Test, a huge University of Sussex and BBC Radio 4 public science study into kindness, due to be publicised in early 2022.
"It's been a pleasure to once again bring together a selection of some of the kindest minds out there, who are all undertaking fascinating work that showcases the role kindness plays in society. We're delighted to be able to offer University of Sussex students, staff and alumni free KindFest2021 tickets."
Hammond says of the KindFest experience : "As a Visiting Professor and proud Sussex Psychology alumna, I'm delighted that fellow University of Sussex staff, alumni and current students have free access to a treasure trove of KindFest2021 speakers and events, all exploring how we can make the world a kinder place."
As part of their live session on kindness, 'Us' tent host, Hammond spoke not only with Prof Banerjee, but also with: Prof Kate Cavanagh, Professor of Clinical Psychology at Sussex, on compassion and mental health; Sarah Mears from the EmpathyLab and author Jion Sheibani on the role of books and libraries in fostering empathy in readers; Dr Gillian Sandstrom from the University of Essex on how to curate a kind social media feed and why she likes talking to strangers; Janice McGuinness from People United on how public art can cultivate kinder communities; and Suzanne Rose from the Mass Observation Archive on the new kindness writing project that they are launching.
University of Sussex students, staff and alumni can watch the recordings for free here from Wednesday 17 November.
Full-price tickets can be bought at www.teamkind.org.uk/tickets