Global Engagement hosts successful virtual workshop with Mahidol University
By: Louise Duthie
Last updated: Tuesday, 26 October 2021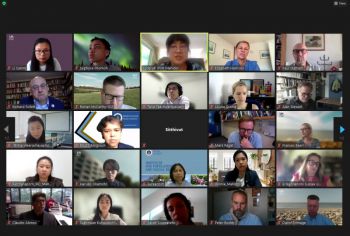 University of Sussex Global Engagement and the Office for International Affairs at Mahidol University hosted academic school leaders from both institutions to a joint virtual workshop on 16 September 2021. The focus of the workshop was to explore pathways and opportunities to strengthen our existing collaborations across Schools at Sussex and Faculties at Mahidol University.
Over 30 staff including Sussex' school leaders from the Schools of Life Sciences, and Global Studies as well as their counterparts from Mahidol University's Faculty of Life Sciences, and Institute of Migration and Population Studies attended the workshop.
The workshop was chaired by Prof. Richard Follett, Deputy Pro Vice Chancellor (International) and attendees engaged in positive discussions on enhancing research collaboration, pathways to student exchange and improving the student experience across both institutions.
Head of Global Partnerships Ms Li Camm stated 'I am very pleased to see how much we have already achieved together, how much we have in common and I look forward to working with colleagues at Mahidol on many new and innovative projects in the coming year.'
The University of Sussex and Mahidol University have a longstanding partnership stemming from collaborations in the Humanities and in Life Sciences. Partnership activities began between Sussex School of Global Studies and the Faculty of Social Sciences and Humanities at Mahidol from 2015 culminating in many successful research projects including a major research grant leading to the development of the Sussex Mahidol Migration Partnership and the Europe -Asia Migration Network.
In 2016 Sussex and Mahidol applied for a Thai government funded TNE programme in Biosciences leading to our dual degree in the subject area with cohorts of students from Mahidol coming over to Sussex to complete the last two years of their degree over the last few years.