Sussex Student's message to COP26 leaders – the World must act!
By: Maria Balboa Carbon
Last updated: Friday, 22 October 2021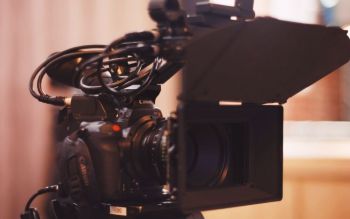 A Sussex student has co-directed a film urging world leaders at COP26 to address climate change.
Syed Jazib Ali, a documentary film maker from Kashmir, is studying a Masters in Journalism and Documentary Practice at Sussex.
His documentary, the ActNowFilm, will be screened in the Green Zone at the UN Climate Change Conference on Thursday 11 November at the Glasgow Science Theatre.
The film brings together young environmental influencers sharing their personal experiences of extreme climate change and their suggestions to world leaders to tackle the issues. The filmmakers hope it will show the urgent need to address climate change now.
Syed says "I've been amazed at how this project has come together, there are so many powerful stories. It's about giving global youth a platform to voice their concerns and opinions and to send a message to the global negotiators and policy-makers at COP26."
"There are so many young people who have experienced extreme environmental conditions in such a short span of time. Many of the global negotiators will not have experienced such extremes in their whole lives up until recent times."
The filmmakers asked for people aged 16-30 to submit a video of up to two minutes talking about climate change and the actions they would take to address the issues.
Some of the submissions are very personal stories," Syed said.
"For example, one person from China told how there was a river in his town, which he saw growing up, which is now gone.
"It shows how climate change is urgent and we need to take action."
The University of Sussex has an ambitious Sustainability plan to make the University reach net zero by 2035, which includes Climate Leadership scholarships and Climate Leader cash Prizes for students providing leadership on sustainability matters. Find out more about our Countdown to COP26 events.