University of Sussex academics join campaign urging Boris Johnson to push for critical COP outcomes
By: Neil Vowles
Last updated: Thursday, 21 October 2021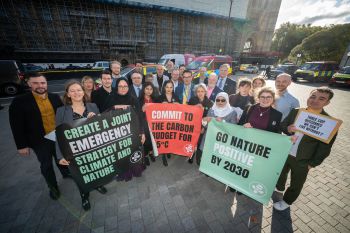 Professor Benjamin Sovacool of the University of Sussex has joined a number of leading climate experts and MPs outside Downing Street as part of a campaign urging the Prime Minister to go further with his government's climate commitments.
Prof Sovacool joined fellow climate and ecology scientists, environmentalists and MPs as an open letter was presented to the home of the UK Prime Minister at 10:30am today [Thursday 21 October 2021] demanding Boris Johnson push for Three COP Outcomes We Can't Live Without from COP26 and COP15.
The letter calls on the Prime Minister to deliver on three specific outcomes:
Create a joint emergency strategy for climate and nature
COP26 and COP15 must create a joint emergency strategy for getting back within the planet's safe limits.


Commit to the carbon budget for 1.5°C
The COP26 parties must agree to stick to the remaining global carbon budget that gives us a 66% chance of limiting warming to 1.5°C.


Go nature positive by 2030
The Global Biodiversity Framework on the table at COP15 must include a global goal to go nature positive by 2030.
The letter in support of the outcomes has now been signed by top scientists including Dave Goulson, Professor of Biology at the University of Sussex, alongside environmentalists including Stanley Johnson, Isabella Tree, Sir Jonathon Porritt, and Liz Bonnin and representatives of the business community including LUSH, the Co-operative Bank, The Green Economy Coalition, Slow Food UK, and Toast Ale.
The outcomes are based on a report from campaign group Zero Hour, produced with scientists from the University of Oxford, University of Leeds, University of Linköping, CORDIO East Africa and the International Institute for Environment and Development (IIED).
Benjamin Sovacool, Professor of Energy Policy in the Science Policy Research Unit (SPRU) at the University of Sussex Business School, said: "Additional and significant climate and ecological commitments are desperately needed because the current response to the impending climate crisis does not go nearly far enough and even existing government plans are inadequate to fully protect nature or stabilize the climate.
"The recent IPCC report, while complex, carries a sobering and simple message: we are on a track to true climate catastrophe. In order to ensure that global warming does not exceed 2°C temperature levels, rapid, transformative, and sustained action is needed. The world is set to use up its carbon budget in a matter of years, not decades. We must act with an urgency unlike any other challenge facing human history."
Dr Amy McDonnell, campaign coordinator at Zero Hour, said: "That leading scientists are urging the PM to take action speaks volumes about both the crises we face, but also the golden opportunity we have as hosts of COP26 to lead the world and push for these three key COP outcomes. If we fail, we'll be on the road to an un-livable future. This is a warning from the scientists"