"It was a thrill to see ideas from my research take shape on screen" - life as a Hollywood science advisor
Posted on behalf of: Helen Ticktin-Smith
Last updated: Monday, 11 October 2021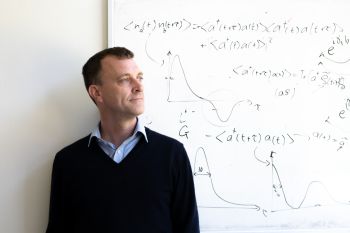 There are many who dream of the phone call from Hollywood that will change their career and their life, but Jacob Dunningham, Professor of Physics in the School of Mathematical and Physical Sciences and Deputy Director of the Sussex Centre for Quantum Technologies at the University of Sussex was not one of them.
So when he received a call from Paramount Pictures one morning on his way to campus it was a complete surprise: "I got an unexpected phone call on my commute to Sussex asking if I wanted to be involved as a science advisor with an action sci-fi film being made by Paramount Pictures," says Jacob. "Of course, I leapt at it – despite the disappointment of not being asked to play the action hero role!", he adds.
The film, out now in the UK following delays caused by Covid, is 'Infinite' and stars Mark Wahlberg. His character, Evan McCauley, is beset by memories of places that he's never visited and abilities he can't explain. Diagnosed with Schizophrenia and heading for a breakdown, Evan is visited by the Infinites, a mysterious group that explain to him that his memories are from his multiple past lives and contain secrets that he must work with the Infinites to unlock and resolve. The situation turns deadly and the action begins when Evan meets the Nihilists, a breakaway group of Infinites who believe that reincarnation is a curse which can only be broken by destroying humanity.
Evan does battle with the Nihilists using skills from his previous lives – including quantum physics. As Jacob explains: "The idea of there being multiple versions of ourselves in parallel universes is closely related to the many worlds interpretation of quantum physics and connected with the work being done here at Sussex to develop a range of new quantum technologies.
"In the many worlds interpretation, there are a huge number of parallel universes where all different possibilities happen. This includes having different versions of ourselves in each. We can imagine that in some we're successful film stars, or have won a Nobel Prize! Others are less favourable and we may be destitute or already dead. The film plays on these ideas of multiple lives and what would happen if they connected with and influenced one another."
In the film, Evan scribbles complex equations over the walls of his apartment as he tries to understand what is going on – these come from Jacob's research at Sussex. A textbook written by Jacob and used to teach a module in Atomic Physics can also be seen in Evan's apartment.
'Infinite' was filmed partially on set in West London and Jacob was invited to meet the team. He says of the experience: "It was a large industrial-looking block and initially I thought I was at the wrong place, but as I got nearer there was a lot of security and, once inside, it was a very impressive set for multiple films complete with tracks for filming car chases! I met with the creative team and talked with them for quite a while about quantum physics and how it linked to the ideas in the film. They were very interested in the underpinning science and ensuring that details were accurate, or at least plausible."
Early reviews for 'Infinite' have been mixed, but Jacob has only praise for the concept and endeavour behind the film: "I love the interface between science and art and working with the creative team on this film was a real privilege. They are so talented and it was a thrill to see ideas from my research take shape on screen."
You can watch the trailer for 'Infinite' here: https://www.youtube.com/watch?v=a3RDnD9YVxA