University of Sussex celebrates Brighton & Hove Pride in its enforced absence
By: Neil Vowles
Last updated: Friday, 6 August 2021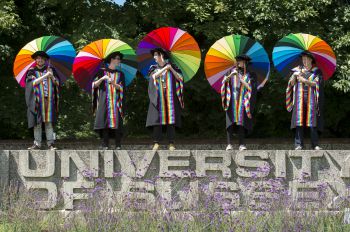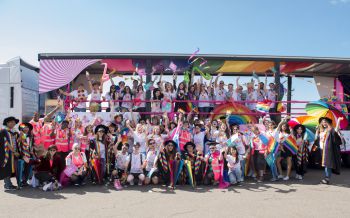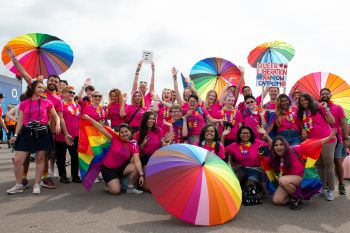 The University of Sussex is expressing its support and solidarity with Brighton & Hove Pride on the eve of the weekend where its enforced absence will be felt strongly in the city.
The University became an official partner of Brighton & Hove Pride in 2017 and has been proud to continue its support in 2021 even though the much-loved event will not be brightening the city streets in its traditional way again this year because of Covid.
In past years, University staff and students have been a colourful addition to the visual spectacle which is the Pride Community Parade.

Professor Kevin Hylton, interim Pro-Vice-Chancellor for Culture, Equality and Inclusion at the University of Sussex, said: "Brighton & Hove Pride is the most colourful and exciting means that the city has to demonstrate its inclusivity and diversity and it is upsetting that the pandemic has robbed us of the chance to celebrate together for another year.
"The absence of Brighton & Hove Pride from the city this weekend will give us all a moment to pause and reflect on what we have lost and why events like Pride continue to be so important for our collective well-being in the 21st century.
"Sussex is proud of its history at the forefront of the fight for the rights and recognition of the LGBTQ+ community and those values remain at the heart of what makes Sussex, Sussex.
"Through my appointment and that of my successor David Ruebain, the University has made a clear statement about how important it values diversity and inclusion. Our mandate demonstrates a commitment to continually evolve and improve as an institution that is welcoming to all."
Dr Laia Becares, Senior Lecturer in Applied Social Science and co-lead of the Queerantine Survey into the impact of the coronavirus pandemic on the wellbeing of the LGBTQ+ community, said: "I know from my own research that the impacts of Covid-enforced social distancing and lockdown may have been felt acutely by LGBTQ+ people and had a significant impact on many individuals' mental wellbeing.
"Events like Brighton & Hove Pride have a real significance for many in the LGBTQ+ community because they provide safe spaces for LGBTQ+ people to be themselves and create opportunities for individuals to affirm their identities and make connections.
"And following the documented inequalities of the pandemic on the LGBTQ+ community, Pride continues to be an opportunity to advocate for equality and social justice.
"The absence of Brighton & Hove Pride for another year will be sorely felt within the city's LGBTQ+ community and beyond and there will be an even greater need for its return in 2022."
Organisers announced earlier this year that Brighton & Hove Pride's Community Parade, Pride Village Party and Pride Festival on Saturday 7 August and Sunday 8 August 2021 will not be going ahead for a second year because of the impact of the Covid pandemic.
The event acts as a major fundraising opportunity for the LGBTQ+ community, supporting The Brighton Rainbow Fund and raising hundreds of thousands of pounds for good causes each year.
Paul Kemp, Managing Director, Brighton & Hove Pride CIC, said: "We were truly devastated to have to cancel the Pride festival and celebrations for a second year, and advocate that the need for community has never been stronger.
"Although for many Pride is a celebration, for us Pride has its roots in protest and campaigning, and as our hard fought for LGBTQ+ human rights are slowly being rolled back in some parts of the world and more anti-LGBT discriminatory legislation introduced, the support of institutions such as US allows us to continue to uphold the legacy of the human rights activists that have gone before us and continue to provide safe spaces for all members of the LGBTQ+ community to come together and celebrate their identities.
"The impact of social distancing and lockdown have undoubtedly affected many individuals' mental health and general wellbeing, so to continue to support and enrich the life of the LGBTQ+ community and the residents of Brighton & Hove, we have curated 'Pride at the Ironworks', a season of smaller in-person cabaret, comedy and live music events celebrating LGBTQ+ culture and diversity, that form part of a fantastic new year round cultural calendar that views the world through a variety of lenses, amplifying unheard voices."
For more details on Pride at the Ironworks events visit here.