Researchers launch annual survey to monitor the health of Sussex seabed following trawler ban
By: Stephanie Allen
Last updated: Friday, 13 August 2021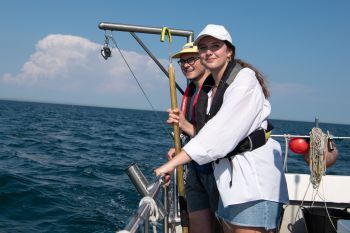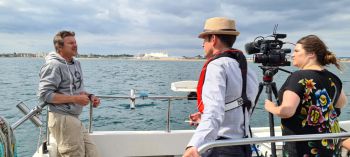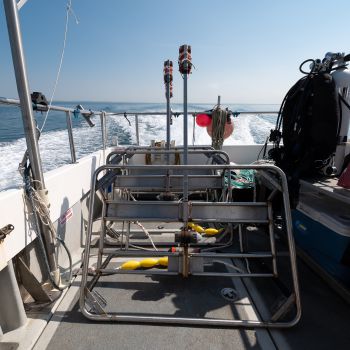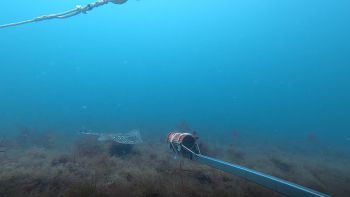 University staff and students have begun an in-depth study of underwater habitats off the Sussex coast as part of a Sir David Attenborough-backed project to restore some of the most biodiverse habitat in the world, and recover a vital carbon sink.
Led by Dr Mika Peck and Dr Valentina Scarponi, the team have begun conducting the first baseline survey of Sussex coastline, to explore the recovery of kelp forests following the recently implemented trawling ban.
Funded by the HEIF (Higher Education Innovation Fund) as part of the University of Sussex's Covid Recovery Programme, in partnership with the Greater Brighton Economic Board, the team will be gathering data at 34 sites between Shoreham and Selsey using three techniques:
eDNA which use a water sample to determine the species that are present,
baited underwater videos (BRUVs) dropped to the bottom of the sea to capture an hour of continuous footage,
and bioacoustics using sound recordings to establish species activity and overall ecosystem health.
A Sussex team effort, the BRUV frames were built by Tim Cane, a Lecturer in Physical Geography at Sussex.
The underwater cameras have already captured footage of butterfish, small spotted catsharks, conger eels, undulate rays and a shoal of Atlantic Mackerel on camera, but the team say activity is far less than it should be.
Dr Mika Peck, Senior Lecturer in Biology, said: "The Sussex coast has an opportunity here to recover from years of damage, and welcome back high levels of biodiversity.
"Some of our monitoring sites are inside the byelaw area that are previously known to have dense presence of kelp beds. This is a unique opportunity to understand how marine systems might recover following removal of trawling pressure. We are hoping to find that, over time, kelp will recover and we'll begin to welcome back healthy populations of priority threatened UK species such as herring, mackerel, and common sole."
Marine scientist, Dr Ray Ward from the University of Brighton is also part of the team. The surveys will be conducted annually for five years, providing scientific evidence to the Sussex Kelp Restoration Project on the impacts and benefits of the Nearshore Trawling Byelaw which was approved and came into effect in March 2021. Each year, a Sussex team will compare data from inside the trawling byelaw zone with that collected from within the marine conservation zones Kingmere and Selsey Bill and Hounds, as well as other control locations along the coast.
Kelp forests provide habitats for many marine species, and have the potential to lock up carbon, improve water quality and reduce coastal erosion by absorbing the power of waves. They once stretched 40 kilometres along the Sussex coast but, since the great storm of 1987, over 96% has been lost with trawling suspected of playing a key role in inhibiting local recovery.
The Sussex Inshore Fisheries and Conservation Authority (Sussex IFCA) proposed a byelaw prohibiting trawling of over 300 square kilometres along the coast, aiming to recover the lost kelp forest and protect fish habitats and populations. Following campaigning from the Blue Marine Foundation, Sussex Wildlife Trust, Marine Conservation Society and Big Wave Media through the Help our Kelp partnership, supported by Sir David Attenborough, the byelaw was approved earlier this year.
The surveys, supported by the Blue Marine Foundation, are the next step within the Sussex Kelp Restoration Project, using research to monitor the impacts and benefits of the byelaw.
The survey team consists of students from all levels of study including undergraduates on the Junior Research Associate scheme, Masters students and a doctoral researcher.
Dr Valentina Scarponi said: "Kelp beds bring key benefits to coastal areas, including storm protection, carbon sequestration, and the creation of nursery habitats for ecologically and commercially important species of fish and invertebrates. Juveniles grow and survive in higher numbers in their nursery grounds, and eventually spill-over to replenish offshore populations.
"The hope is for this project to provide evidence that protecting our precious coast from a destructive fishing practice can help the recovery of commercially important fish stocks indirectly increasing fishing yields. Only by having the public and the fisheries communities on board can we ensure a long-term plan for the restoration of kelp habitats. We could then apply a similar model to other coastal areas of the UK."
Moving forward, Dr Peck is hoping to expand the project to include kelp cultivation and planting, actively restoring the underwater habitat with support from local authorities.
The project is just one of many at Sussex focusing on sustainability, as the university aims to be one of the most sustainable in the world, demonstrating and promoting all forms of environmental, social and economic sustainability at a local, regional, national and international level. Read more about our new sustainability strategy here.