The Sussex Programme for Quantum Research launches new website
By: Rebecca Bond
Last updated: Monday, 5 July 2021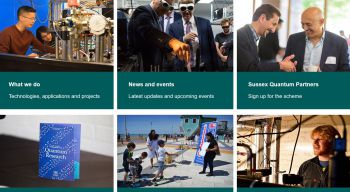 The Sussex Programme for Quantum Research (SPQR) has launched a brand new website. Take a virtual wander to see all the latest news, events and videos from the programme as well as a host of current projects and applications of quantum technologies taking place at the University of Sussex.
The programme fosters interdisciplinary collaborations with quantum physicists across schools, departments and industry with a focus on real world applications.
Director of the programme, Professor Peter Krüger, said: "Interdisciplinary research is key to our work here. We want to inspire collaborations between disciplines. Our quantum physicists are working with, amongst others, doctors, engineers, psychologists and materials scientists.
"We have built this new website to expand our collaborations and further our work in using quantum science for human centred and sustainable applications. One such project is our work with industry partner CD02 on using quantum sensors on electrical vehicle batteries.
"Our door is open to build new partnerships, so please do get in touch."
Further information: https://www.sussex.ac.uk/research/centres/quantum/