University of Sussex appoints interim Vice-Chancellor
By: James Hakner
Last updated: Friday, 2 July 2021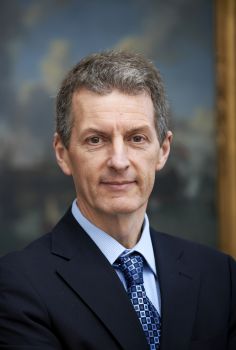 Council, the University's governing body, has appointed Professor David Maguire as the interim Vice-Chancellor of the University of Sussex.
He will lead the University after the departure of Adam Tickell, who is stepping down later this year, until a permanent successor is in post.
In an email to all staff today, Dame Denise Holt, Chair of Council, said: "Completing the work envisaged in Sussex 2025 to create a better university for a better world remains the central aim of Council, and of course of the Vice Chancellor. The announcement of Adam's departure later this year meant that some intervention was necessary to ensure the University doesn't falter. So I'm delighted to say that Council today approved the interim appointment of Professor David Maguire to lead and support this important work as Interim Vice Chancellor during the inevitable interval between Adam's departure and the arrival of his permanent successor.
"David Maguire brings a wealth of experience and excellent credentials as a higher-education leader. In his interview, it was clear that he fully understands the University's shared ambitions and the critical importance of Council's key programmes of work – in particular, our Size and Shape programme. Finding a Vice-Chancellor of David's calibre, with experience of working in an interim role, will provide vital stability to the organisation, which is why we have moved to this position as early as possible."
Professor Maguire was Vice-Chancellor of the University of Greenwich until 2019 and was interim Vice-Chancellor of the University of Dundee in 2020. He is a member of the Higher Education Policy Institute (HEPI) board and former Chair of Jisc. He has worked in both academia and industry and is an acknowledged expert in Geographic Information Systems.
Professor Maguire said: "I am very pleased to be joining the University of Sussex and excited about helping the University to achieve its critical objectives.
"Sussex is a university with much to be proud of and an excellent reputation. I'm looking forward to helping it achieve its ambitious Sussex 2025 vision and am committed to moving this forward over the next academic year."
Council's attention now turns to the important task of finding a permanent successor as Vice-Chancellor. This will be an exhaustive and inclusive search and there will be opportunities for everybody across the University to get involved. This search is likely to take until the end of the year, with a new Vice-Chancellor most likely in place from next summer.