Inking outside the box: £2 million boost for printable nanomaterial tech
By: Anna Ford
Last updated: Tuesday, 23 November 2021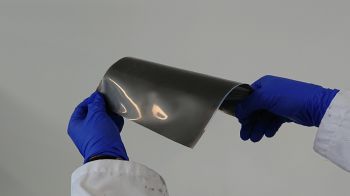 A team of nanomaterial physicists at the University of Sussex are set to receive a £2 million boost to their research coffers from nanotechnology company Advanced Material Development (AMD), which will fund five new researcher posts for the next three years.
The research group is led by Professor Alan Dalton, who puts particular emphasis on using nanomaterial inks in environmentally sustainable designs. The world sends up to eleven billion plastic and metallic clothing tags to landfill or incinerators annually – and their use is rising. But that could now be set to start to change, thanks to an eco-friendly development from the Sussex physicists.
AMD has agreed with Marks and Spencer to replace their radio frequency identification (RFID) clothing tags with a metal-free graphene conductive ink invented by the Sussex team. Instead of the current plastic and metal-based tags, the new invention sees the carbon-based RFID antenna printed onto recyclable paper, and used on the products. The items can then be scanned and tracked throughout the supply chain, from creation to sale.
Professor Alan Dalton leads the Materials Physics Group within the School of Mathematical and Physical Sciences at the University of Sussex. He said:
"We're on the cusp of taking a number of our inventions out of the lab and to market, and this significant new boost from Advanced Materials Development means we can recruit the team we need to make the next step. The company has exciting collaborations with Marks and Spencer, Honeywell and many other global companies lined up. The potential applications for nanomaterial inks are boundless."
The team's other developments include:
Laser-proof eyewear for emergency service workers
An increasing number of emergency service workers around the world are facing the risk of deliberate attacks using laser-based devices which can cause blindness. Prof Dalton's team, in collaboration with colleagues at the University of Surrey, has developed a nanomaterial film coating for eyewear which may dissipate laser beams. This prevents the lasers from reaching the wearers' eyes, and reduces the risk of flash blindness and permanent retina damage. Police officers, fire fighters and pilots are among those who stand to benefit.
Similar films are being used for a range of other applications including gas sensing and radiation dosimetry. These secondary projects are funded by the UK Research and Innovation Future Leaders Fellowship programme which was recently awarded to Dr Izabela Jurewicz who is AMD's Chief Science Officer. As part of the fellowship, Izabela will be a Visiting Senior Lecturer at the University of Sussex.
Reducing electronic interference in race cars
The team are developing materials to shield sensitive sensor components from electromagnetic interference, which is a major challenge particularly for new electric vehicles. And they have adapted the formulation of their ink to become stretchable so that it is compatible with rubber and other substrates - while working with a major global automotive component supplier.
Adding to ceramics to boost safety
AMD has entered into an agreement with Honeywell to use graphene-based materials to improve armour. As well as the potential to add substantially to the toughness, this smart technology will also allow the owners to test the structural health of the material and to replace it only when necessary.
Dr Sue Baxter, Director of Innovation and Business Partnerships at the University of Sussex, said:
"The University's burgeoning partnership with AMD has been critical to driving our ground-breaking research to market in a fast, agile and cost-effective way. The partnership directly supports new discovery in our labs and has shared it with commercial clients at phenomenal speed compared to the more conventional routes to market available for University-based research. If all universities had partnerships like this, the economic and social benefits of their research base would be accelerated exponentially."
John Lee, Chief Executive Officer of AMD, said:
"We have been working with the University of Sussex since mid 2018 under a Research Framework Agreement which governs how an SME can work with such a large academic organisation. The partnership has enjoyed huge successes as we have moved forward, both from engagement with such a fantastic team of researchers within Professor Dalton's team but also with the continuing positive support received from the Sussex Innovations and Business team. Our commitment to the ongoing work at the University is a strong belief supported by our shareholders in our ability to create true ground-breaking advances in the commercial applications for materials science."